F1 Throwback: How Jenson Button Went From Pitting Six Times to Winning the 2011 Canadian Grand Prix
Published 01/09/2020, 11:28 AM CST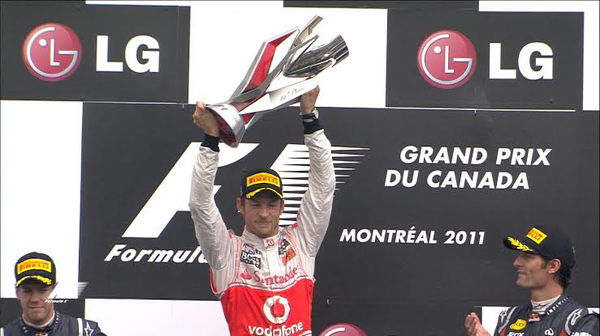 ---
---
In sport, many consider FC Barcelona's 6-1 comeback against PSG or Liverpool's 4-0 comeback against Barcelona, as one of the best ever. However, the 2011 F1 Canadian Grand Prix trumps those two events handily and is regarded as one of the best F1 races ever. Former McLaren driver Jenson Button was the main protagonist of this historic event and overcame several odds.
ADVERTISEMENT
Article continues below this ad
The race commenced behind the Safety car as it would have been suicidal for 22 cars to race each other on a drenched track. Luckily, the rain eased up and the circuit began to dry, so the Safety car dived in the pits, and in the words of NASCAR commentator Darrell Waltrip, "Boogity, Boogity, Boogity, Lets go racing".
Unfortunately, there was a collision between Red Bull driver Mark Webber and Button's teammate, Lewis Hamilton. At that moment, Safety car driver Bernd Maylander realised that he was in for a very long afternoon and was probably praying that he had enough fuel in his car.
ADVERTISEMENT
Article continues below this ad
Moving back to the action on track, the recovering Hamilton came upon his teammate and pressured him into a mistake. The bad news that that an unsighted Jenson Button squeezed the 2007 champion into the wall on the main straight and ended his race. As a result, the 2009 champion copped a penalty for the collision and dropped down the order.
Button switched to intermediate tyres and made up time until the safety car made its third appearance on lap 20, which was later followed by the pouring rain forcing the drivers onto full wets, and later on, the race was suspended for over two hours.
When the race restarted, the safety came out yet again and triggered another round of pit stops to change back to intermediate's with the track drying quickly. However, the safety car came back out again, and Button was the culprit again, with his new victim being Ferrari's Fernando Alonso, with the Spaniard retiring.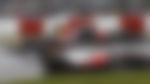 The 2009 World champion was at his brilliant best getting the most out of the differing tyres and timing his move to slicks to perfection. Eventually he slotted into fourth when Bernd Maylander made, what was hopefully his final appearance that weekend.
ADVERTISEMENT
Article continues below this ad
Sadly for Button, he dropped to dead last after the Alonso crash, a fifth pit stop and a drive through penalty for going through the pit lane too fast. However, he turned everything around when he was in sight of the podium but behind race leader Sebastian Vettel, Webber and Michael Schumacher.
Webber made a mistake, promoting Jenson Button on the podium, before he made short work of the legendary German a lap later. With five laps left, he was three seconds behind Vettel and eating into his lead by half a second per lap. On the final lap, he was half a second behind Vettel when the Red Bull driver made a mistake under pressure.
ADVERTISEMENT
Article continues below this ad
He slid wide and Jenson Button was not about to decline an open invitation. It was an incredible victory from accidentally taking out his teammate, being dead last, surviving two crashes, six pit stops including a drive through penalty, five safety cars and a two hour red flag.