F1 Throwback: Pit Stop Ends in Disaster for Kimi Raikkonen and Ferrari
Published 05/11/2020, 1:27 PM EDT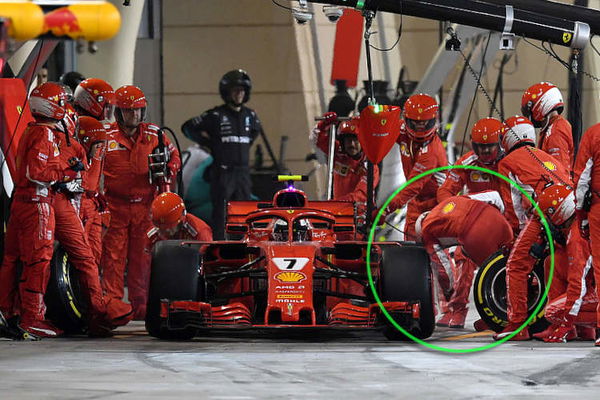 ---
---
Pitlane incidents can be quite scary. There have been numerous accidents involving refueling after which FIA had to change the regulations related to refueling during the race. As we say that F1 is a team game, it is very important to have the perfect pitstop as it can change the course of the whole race. One of the recent Pitlane incidents was of Kimi Raikkonen during the 2018 Bahrain GP. The Finn was untimely released due to which he ran over a pit crew.
ADVERTISEMENT
Article continues below this ad
Sebastian Vettel simply held on to win a sensational Bahrain Grand Prix from pole position. While his teammate Kimi Raikkonen coincidentally broke a pit crew's leg after a messed up tire change which cost him a podium.
Lewis Hamilton benefitted from Ferrari's incident to complete third behind his Mercedes colleague Valtteri Bottas. Both Red Bulls fizzled, with Max Verstappen retiring minutes after Daniel Ricciardo. It helped Hamilton to reach on the podium from ninth on the grid.
ADVERTISEMENT
Article continues below this ad
It could have been far and away superior to Mercedes. Bottas nearly passed Vettel on the last lap, however, Vettel made a pivotal blocking and won by just 0.6 seconds. It was the four-time F1 champion's 49th win on his 200th race start.
"The last five laps were really difficult," Vettel said. "I thought Valtteri would catch me. I nursed the tires and it worked, but only just."
The Kimi Raikkonen incident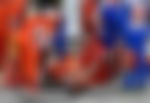 While on his 2nd pit stop on lap 35, Kimi Raikkonen struck a Ferrari pit crew Francesco Cigarini with his left rear tire after his vehicle was released. It broke Cigarini's tibia and fibula. The episode was brought about when Ferrari's light was mistakenly changed to green in spite of the way that the left rear tire had never really been changed.
In a statement released by Ferrari later on Sunday, Raikkonen said: "What happened to our guy Francesco today at the pit-stop is very unfortunate. I feel sorry for him and hope he's going to be OK soon.
"It's always a bad thing when someone gets injured but I am sure he has the best people taking good care of him. I wish him a speedy recovery. As for the accident itself, all I know is that I moved when I saw the green light go on.
"I couldn't have possibly realized that there was an issue with the rear left wheel. Then I saw someone had got hurt and, immediately, I was told to stop by the team."
ADVERTISEMENT
Article continues below this ad
Kimi Raikkonen quickly halted in the pit path on exhortation over team radio and retired the vehicle. Raikkonen's retirement elevated Lewis Hamilton to the podium, and Ferrari was hence fined €50,000 for a perilous pit release.
Cigarini was promptly moved to the hospital in Bahrain where he later underwent surgery and went back to Italy. This was affirmed by Ferrari F1 boss Maurizio Arrivabene in China.
ADVERTISEMENT
Article continues below this ad