F1 Throwback: Sebastian Vettel and Hamilton Involved in Incredible Banter Over Seb Ruining His Lap Over Seagulls
Published 01/26/2020, 6:09 AM EST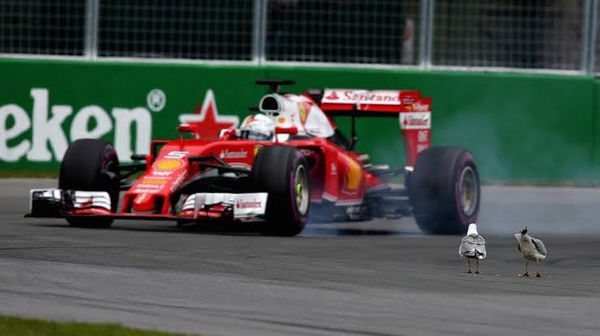 At the 2016 Canadian Grand Prix, Lewis Hamilton capitalised on Sebastian Vettel's mistake, to win the race. Naturally, the German driver was not too pleased to lose to his rival. However, Sebastian Vettel gatecrashed the Mercedes driver's interview with a seemingly bizarre excuse.
Sebastian Vettel insisted that he was forced to run wide at Turn One during the race. Apparently, he wanted to avoid earning the ire of PETA, and there were two seagulls, coolly waiting for him in the middle of the corner.
Of course, nobody believed him, and he stayed there until they scoured every clip of the race. Soon, Vettel was left vindicated as it actually turned out that there were two seagulls on the circuit.
ADVERTISEMENT
Article continues below this ad
"Can you see they stayed there?" insisted an incredulous Vettel. "That's what really annoyed me. I was doing a hundred and something, and they stay there!"
ADVERTISEMENT
Article continues below this ad
"It doesn't blend in like yours… It wasn't a pigeon, It was a seagull. I could see the beak. I didn't know their names, but they were there. It was the worst moment of my race."
How did Sebastian Vettel fare in the race?
In the end, the Ferrari driver was forced to settle for 2nd, ahead of future Mercedes driver, Valtteri Bottas. In terms of the championship, Sebastian Vettel ended the year in 4th place, behind champion, Nico Rosberg, Hamilton and Daniel Ricciardo's Red Bull.
ADVERTISEMENT
Article continues below this ad
To be perfectly honest though, it was not the weirdest excuse to not winning an F1 race. During the 1984 US Grand Prix, Ayrton Senna crashed out of the race. He claimed that the wall at the section of the circuit 'moved a little'. Of course his explanation was met with incredulity and numerous pinches of salt.
However, his engineer, Pat Symonds decided to humour him and went to measure it. Lo and behold, Ayrton Senna was proven right. as the wall moved by a few millimeters.