F1 Throwback: Watch Kimi Raikkonen Mocking a Walking Fernando Alonso
Published 01/19/2020, 11:18 AM EST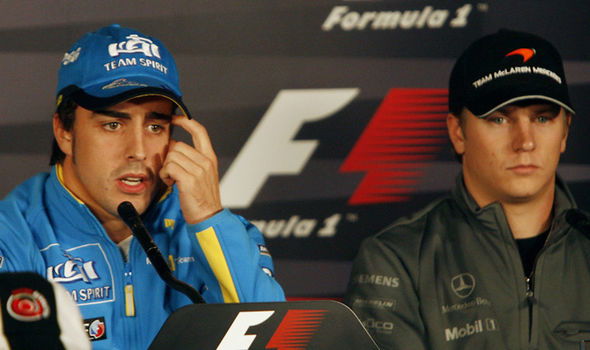 ---
---
Even in his early years in Formula One, Kimi Raikkonen was quite a troll. During his McLaren tenure, the Finnish driver poked fun at Renault driver Fernando Alonso. The Spaniard was spotted running, while Raikkonen passed him in his car. Raikkonen, who was behind the wheel, turned as remarked that Renault probably never provided Alonso with a road car.
ADVERTISEMENT
Article continues below this ad
Admittedly, the year of this little encounter was unknown, but it was fairly clear that it was between the 2003 and 2006 seasons. Alonso would later go on to bag two championships in 2005 and 2006.
ADVERTISEMENT
Article continues below this ad
Meanwhile Kimi Raikkonen bagged his one and only title in 2007, while racing for Scuderia Ferrari. To this day, he remains as the Italian outfit's last driver's champion. It is worth noting that he snatched it from under the noses of Lewis Hamilton and Alonso himself.
Till date, Kimi Raikkonen continues to race in Formula One, albeit with Alfa Romeo. Hie last win in Formula One was at the 2018 US Grand Prix, which came after a gap of nearly five years.
ADVERTISEMENT
Article continues below this ad
Since then, he left Scuderia Ferrari and joined Alfa Romeo for the 2019 season. However, the Swiss-Italian outfit have had an up and down year. After a strong start, their form waned as the season progressed. The only exception was the chaotic 2019 Brazilian Grand Prix, where he took a season-best 4th place.
Kimi Raikkonen still hasn't lost his funny bone nor his skill
This 'brutal' trolling of Fernando Alonso just adds to the number of reasons why he is a well-loved figure in F1. Of course, he is more well-known for his hilarious radio messages, which have their own Youtube compilations.
ADVERTISEMENT
Article continues below this ad
Even at the age of 40, Kimi Raikkonen continues to race, but the question that lingers is, for how long? Granted, the veteran is lightyears away from being a spring chicken. However, he has often proven that there is still some life in the old dog.