From 2008 until 2011, McLaren's Lewis Hamilton and Ferrari's Felipe Massa shared a fierce rivalry. Admittedly, their rivalry may have been born in 2008 when Hamilton snatched the world championship in front of Massa's adoring hometown.
Gradually, things worsened between them as the duo got involved in numerous collisions. It got to a stage where steward needed to interfere to examine their incidents.
During the 2011 Indian Grand Prix weekend, the then McLaren team principal, Martin Whitmarsh, spoke about the feud. He said, "Clearly Lewis and Felipe are magnetic". Meanwhile, the then Ferrari team boss, Stefano Domenicali confessed, "Maybe, But who is the plus and who is the minus?"
One collision is an accident while two is a case of pure coincidence. The same cannot be said of six incidents in a single season, which is suspicious on its own. Hamilton and Massa traded paint jobs in Monaco, Silverstone, twice in Singapore, Suzuka and finally in India.
After the Singapore GP, the two got involved in a minor spat. Massa tapped Lewis Hamilton on the shoulder and sarcastically quipped, "Good job, bro'!", while the Briton snapped back, "Don't touch me, man!".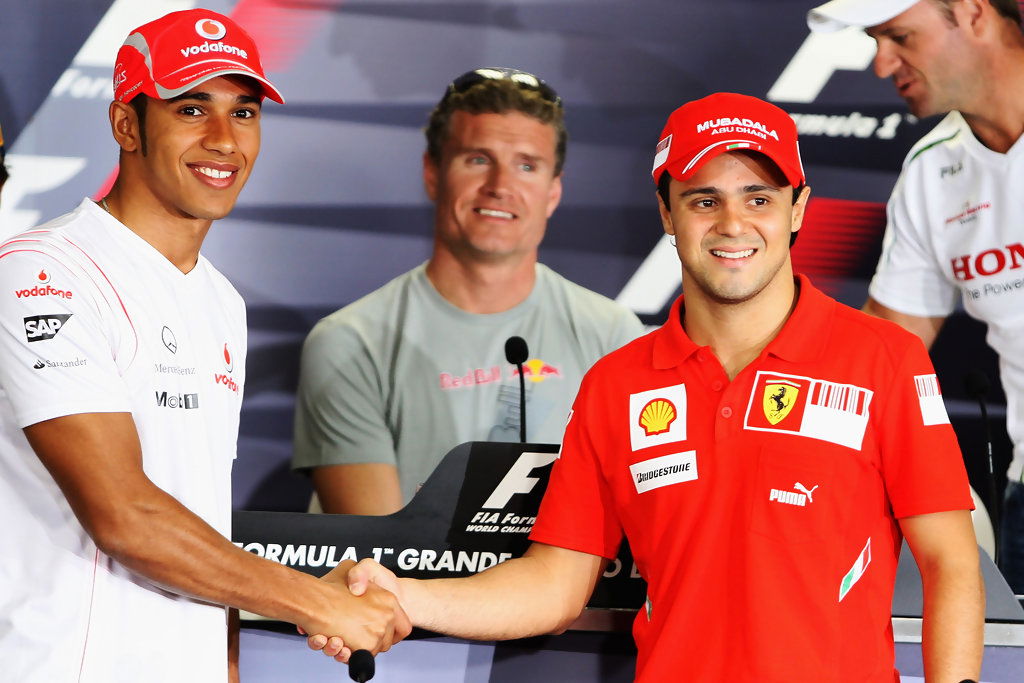 Why was Lewis Hamilton practically glued to Massa's Ferrari?
One possible theory centres around Hamilton's poor qualifying sessions, which normally left him to fight his way up the pack. Eventually, he would duel with Massa, one thing leads to another and they would end up bumping into each other.
Additionally, Lewis Hamilton had just come out of a bitter rivalry with Fernando Alonso in his debut season. Obviously, there would have been some lingering anger during that stint. Maybe Felipe Massa had the unfortunate luck to have it dumped on him.
What worsened the situation was the clash in India, which left many in the paddock divided. The stewards blamed Massa and penalised him accordingly. However, others believed that the McLaren driver should have backed out of the move and not taken unnecessary risks.
Did the feud end?
Thankfully, Lewis Hamilton and Felipe Massa buried the hatchet eventually. Hamilton initiated it when he gave the then Ferrari driver a hug after the Brazilian Grand Prix.
"It was good to have a nice chat with Felipe," said Hamilton. "I have great respect for him and I'm looking forward to racing him again next year."