F1 Throwback: When Lewis Hamilton Decided to Boycott the Media For Facing Backlash
Published 12/30/2019, 12:25 PM EST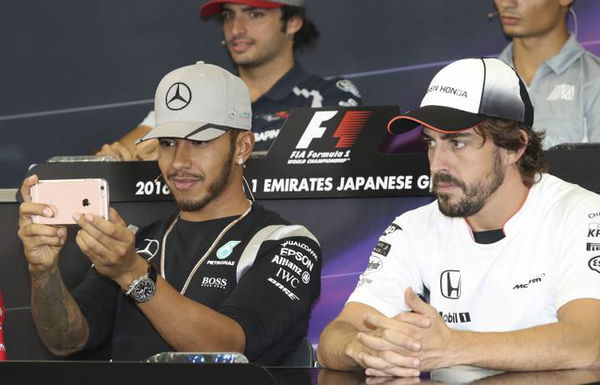 Back in 2016, Mercedes driver Lewis Hamilton got involved in a spot of trouble during the Japanese Grand Prix weekend. As is the normal procedure, some drivers were gathered for the Thursday pre-race press conference and one of them was Hamilton. However, little did anyone realize that that particular press conference would be far from routine, and Hamilton was at the epicenter.
ADVERTISEMENT
Article continues below this ad
Sometime during the media session, Lewis Hamilton was fiddling with his smartphone and busy browsing Snapchat. As he was not speaking, he elected to have some fun and was playing around with Snapchat's "bunny rabbit filter". The then Toro Rosso driver, Carlos Sainz seemed highly amused.
On the other side of the British driver, Fernando Alonso looked quite mortified while his former teammate continued to play on his phone. Hamilton eventually got busted after he failed to keep a straight face upon seeing the hilarious images of his contemporaries.
ADVERTISEMENT
Article continues below this ad
What sealed his fate was when he captioned the images, "This s*** is killing me". Upon being quizzed, he stated that they had been doing press conferences for a long time and the routine was getting monotonous. He implied that he would have wanted to shake things up and make it more fun for everybody involved.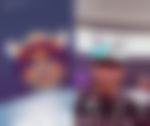 ADVERTISEMENT
Article continues below this ad
The nails kept on being driven into the coffin as the FIA and Mercedes were left red-faced and unable to explain the situation. For obvious reasons, Hamilton's antics rubbed sponsors and officials the wrong way, especially during the pre-race drivers' parade, when he is aloof instead of mixing with his rivals.
Did Lewis Hamilton respond to the situation?
Hamilton later issued an explanation for his Snapchat antics on Twitter, saying: "Today was meant to be fun, not at all disrespectful. Some people take themselves to [sic] seriously. I had a blast, highlight of my day!"
ADVERTISEMENT
Article continues below this ad
"Re: press conference, it's been the same for 10 years. It's not the media or mediator, it's the format. Fans should be asking the questions!!"
However, in the immediate aftermath of the Snapchat saga, the media pounced on the news and slammed Hamilton. In response, he hit back at 'disrespectful' journalists and walked out of a media event.