Nigel Mansell had begun the race from the pole position, his first-ever in F1. He led the pact for the first half of the race before his tires went off and he fell back. He had to make an unexpected pit stop pulling him down on the standing.
The 1984 Dallas GP is known for two reasons, the excruciating heat and wethering track conditions. The drivers at Dallas faced a tough challenge not only from each other but from the weather as well. An extremely hot race day made it almost impossible to finish the race without suffering severe dehydration and other heat-related issues.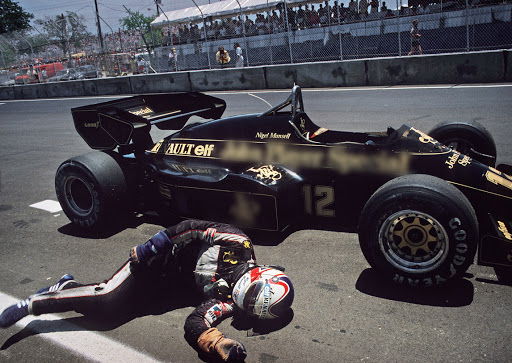 Only 8 cars were able to finish the race, either due to a crash or engine failures. Additionally, the track was cracking and a few drivers went off the race because of the bad track conditions. The wall took out almost half the grid during the race.
After his pit exit, Nigel Mansell was running in fifth, two laps down, when he too succumbed to the conditions. His car brushed the wall, making his gearbox non-functional. With the end goal in sight, he exited his Lotus and pushed it over the line before falling from fatigue. He dropped to 6th place and all the exertion resulted in him scoring one point.
Coincidently, At the same GP Ayrton Senna crashed out because of a surprising reason. His excuse was that the concrete wall had "moved" and it was that which caused him to crash. Making him lose control of the car towards the end of the Grand Prix.
Read More: Greatest F1 Story: When Ayrton Senna Crashed Because The Wall Moved
What Else Happened In The Race After Nigel Mansell Passed Off
The race was won by Keke Rosberg, who'd figured out how to remain cool by wearing an exceptional water-cooled skullcap under his protective cap.
The race was one of two races in the year where both McLarens driven by Niki Lauda and Alain Prost did not score (Belgium being the other). US GP in Dallas also gave Honda their first turbocharged era win and their first Grand Prix win since the 1967 Italian Grand Prix.
Formula 1 stayed away from Dallas ever since, given the conditions it is not really surprising.