F1 Vietnam Prospects are Exciting: Carey
Published 06/04/2018, 2:29 PM EDT


---
---
F1 is excited by the possibility of a Vietnam race as part of an expansion in Asia. However, Europe will remain as the bedrock of the sport, according to chief executive
Chase Carey
.
ADVERTISEMENT
Article continues below this ad
Formula One and its bosses have been in discussions with the Vietnamese authorities about staging a street race in Hanoi. F1 is targeting a 2020 slot, but no deal has been confirmed yet.
The country has a growing market for sponsors and would be a fifth Asian race on the calendar. It would also make up for the departure of Malaysia.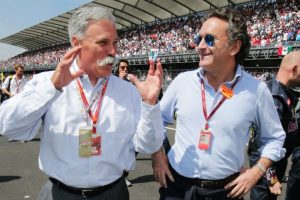 "Vietnam's a very exciting country. A country that's caught the world's imagination and in many ways that's where we want to be," Carey said.
The American businessman said that the sport was looking for great racing and "great platforms to thrill the world.
"I think we're excited about the opportunity to grow in Asia, we're excited about the opportunities that we're discussing in Vietnam, certainly," he added.
Carey has been in charge since Liberty Media's Formula One takeover in January last year. He said that Asia was a priority region as the 'growth engine' of the world.
China and the United States are virtually uncharted territory for the F1 market. Carey has already drawn up plans for a race in Miami.
According to Carey, the criteria for new venues begin with having a track that produces exciting racing.
"Today, realistically, there are tracks that probably we need to work on that are not conducive to providing the most exciting and best racing," he added.
Another factor to bear in mind is a location that 'captured the imagination'.
"We use the phrase 'destination cities'… we want those magical cities and magical countries that really intrigue and fascinate the world," said Carey.
"And we want a balance of events around the world, to make sure we continue to build on the foundation which is Europe for us."
More from EssentiallySports on Canadian Grand Prix