F3 Driver Alex Peroni Escapes Unhurt in Heart-Stopping Accident
Published 09/07/2019, 7:50 AM EDT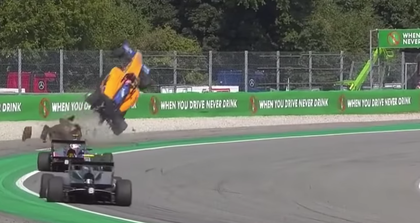 ---
---
Formula 3 driver Alex Peroni was involved in a massive high-flying accident during a race in Monza. The good news was that he was thankfully able to walk away unscathed from the remains of his battered machine.
ADVERTISEMENT
Article continues below this ad
Apparently, Alex Peroni drifted wide and hit one of the sausage kerbs on the outside of the Parabolica. The kerb acted as a makeshift ramp as the car was pitched metres in the air, spinning and landing on top of the barriers.
ADVERTISEMENT
Article continues below this ad
It was fortunate that he was able to clamber out of the car, to collective sighs of relief from the fans. From there, he was promptly whisked away in the medical centre for check-ups, where he appears to be fully fit. On a worrying note, there were marshals stationed at the scene of Peroni's landing. However, their status was not immediately confirmed by the FIA in the wake of the monster crash.
Meanwhile, Robert Shwartzman won the race, with Peroni's crash occurring four laps from the chequered flag being dropped. Since Anthoine Hubert's fatal accident last week in Spa, safety in motorsport has once again been brought to the forefront.
Presently, according to the latest news, the FIA have removed the kerbs for the rest of the weekend..
Friday's F3 qualifying had to be red-flagged and essentially cancelled after farcical scenes saw the majority of the field bunched up together trying to secure a tow. No fewer than 19 drivers were given grid penalties as a result. In addition to that, the Formula One FP3 session was also delayed as repairs to the barriers took place