Fall Guys Concept Artist Shares The Adorable Anatomy of The Characters
Published 09/25/2020, 1:22 PM EDT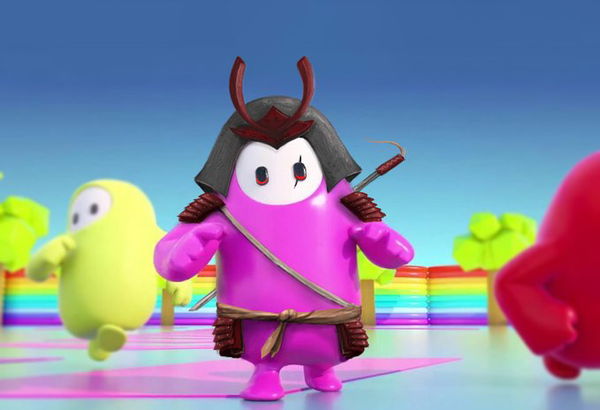 ---
---
Fall Guys has been undoubtedly one of the most popular games out there at the moment. This peculiar title that can be likened to a Battle Royale game in the form of an extended obstacle course soon became everyone's favorite and built itself a community in no time. The game appealed to everyone, especially the little bean-shaped humans. They look so adorable, right? Well, here is something from Tudor Morris, the Senior Concept Artist for the game, that will make you rethink how you perceive these "little" bean-people.
ADVERTISEMENT
Article continues below this ad
ADVERTISEMENT
Article continues below this ad
Further reading: Among Us Sequel Canceled a Month After Announcement
Mediatonic has managed to single-handedly scar the entire community with the picture of the Fall Guys' anatomy. For starters, the picture shows exactly how "little" these "guys" really are and it is unnerving, to say the least. There is nothing adorable whatsoever about a 6ft tall crooked creature inside a cute suit. Moreover, what is that thing? It sure does not look human.
ADVERTISEMENT
Article continues below this ad
What majorly catches the eye is ironically the eye in the diagram. The eye sure looks happy but also raises a lot of questions. We assume there really was not any way to create a skeleton that fits the shape of the suits. For those who have seen this picture even once, the game will never be the same for them. May our eyes rest in peace.
Mediatonic has perfectly handled Fall Guys: Ultimate Knockout so far
Mediatonic has surely upped the eccentricity quotient with the game as well as this uncalled-for anatomy chart that is currently knocking our eyes out. But keeping that aside, the company has handled the massive online arena really well. Especially while hackers and cheaters are infecting every other game these days. Although the run has been tough, devs have been persistent in their fight for competitive integrity. The game is one of the select few who can boast of an interactive dev community.
ADVERTISEMENT
Article continues below this ad
Do you think Fall Guys: Ultimate Knockout can give Animal Crossing a run for their money?