Fans Call On Fortnite To Bring Back Polarizing Feature
Published 04/19/2020, 2:36 PM EDT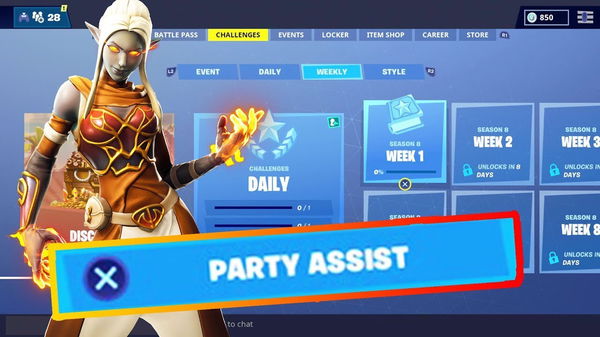 ---
---
Fortnite is rolling out some updates before season 3 officially begins on 4th June 2020. However, the gaming community is demanding for few throwback features to make a comeback. Party Assist enables you to partake a challenge with the different members of your team. The credits automatically arrive if anyone completes the challenge's requirements or advances on it.
ADVERTISEMENT
Article continues below this ad
We are happy with the new map update, with Deadpool and X-Force skins, but there is no replacement for old features. Party Assist is one of them, and Epic Games also teased it a while ago. Although we have not seen anything yet will all these new updates. 
What Is Party Assist All About? 
ADVERTISEMENT
Article continues below this ad
It is a controversial topic to talk on as a lot of pro streamers like Ninja have termed it toxic. Although it is one of the best ways to increase your Battle Pass and move ahead with the challenges, it is not always possible to grind challenges, but when the victory and effort are shared, it becomes excellent. Just a month ago, on the Fortnite Reddit community, it was raging as a discussion. User u/TheVectronic posted the debate with valid points stating that this was one of the best features in the game. 
Although Fortnite might bring it back soon enough, we do not know when. Playing with buddies did improve the game's feel, especially while assisting them in completing their hurdles through Party Assist. This feature is significant in two ways – in case you have a new Fortnite friend, trying to up their XP. This helps by aiding them as they are fresh in the game. Moreover, for experienced players, this helps in differentiating challenges based on skill level. While this was quite popular, it was not a permanent feature.
ADVERTISEMENT
Article continues below this ad
Read More about SypherPK's take on Fortnite
Will Party Assist Make A Comeback In Fortnite?
ADVERTISEMENT
Article continues below this ad
The gaming community unanimously agrees that Party Assist was a much better system to complete challenges. At least it was much better than what we have right now, as it was quite organized. The last update we got about this other than the Reddit post was though Spedicey1's tweet. At this moment we can only hope Epic Games have not forgotten about this update and will include it soon enough.
Trending Stories