Fans Disappointed Over Judges as Jon Jones Wins by a Close Decision Against Dominick Reyes at UFC 247
Published 02/09/2020, 2:05 AM EST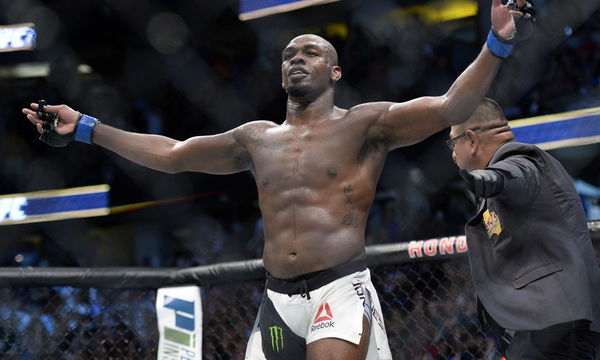 ---
---
Two-time undisputed UFC light heavyweight champion Jon Jones clung onto his title, winning over fourth-ranked Dominick Reyes at UFC 247 in the Toyota Center, Houston on Sunday.
ADVERTISEMENT
Article continues below this ad
While many expected Jones to win the fight, it turned out to be much closer than expected. Reyes had the upper hand in the first round as he won the round.
At the end of two closely fought rounds, the score read 19-19. It had all the makings of a classic encounter. And that's what it turned out to be. The next two rounds saw the two fighters get 19 more points each.
ADVERTISEMENT
Article continues below this ad
An upset looked very much a possibility after four rounds but Jones managed to hang on. He eventually won the fight with unanimous decision  (48-47, 48-47, 49-46).
Jon Jones vs. Dominick Reyes 2.

I need to see the immediate rematch.

That's it. That's the tweet.#UFC247

— Chamatkar Sandhu (@SandhuMMA) February 9, 2020
Fans react to the close call that declared Jon Jones as the winner
As the fight went full 25 minutes, it seemed difficult to choose a winner. As the judges chose Jones, fans expressed their disappointment on Twitter.
(Warning: Tweets might contain profane language)
Wow Dominick Cruz called for Judge Joe Solis, who gave the 49-46 (4-1) for Jones to have his Judging card revoked on-air. That means he definitely messed up big time. #UFC247 pic.twitter.com/JUHaTg1FX8

— GIF Skull – #JoinDarkOrder #UFC247 (@GIFSkull) February 9, 2020
ufc is such fucking bullshit. preserving Jon's name and hype. HOW THE FUCK CAN U CALL THAT 48-46 JONES. Reyes won 1, 2 and 3. blatant robbery.

This is why it's not respected and recognised as a PROPER sport yet. It's more of a showbiz. #UFC247 pic.twitter.com/6uOeOJKcNv

— W (@willyvuitton) February 9, 2020
Jones winning this fight isn't crazy but a 49-46 scorecard for Jones is. #UFC246

— Kenny Florian (@kennyflorian) February 9, 2020
This right here is Joe Soliz. This dumbass just judged the Jon Jones v Dominick Reyes fight and he scored it 49-46 to Jones. This fucking retard thinks Jon Jones won 4 rounds. He needs to get banned from ever judging again. Fuck him #UFC247 #JonesvsReyes pic.twitter.com/qfLN3cmqnj

— Exon (@wazowski_john) February 9, 2020
ADVERTISEMENT
Article continues below this ad
#ufc #jonjones
UNANIMOUS DECISION? WHAT??? How can you get your ass kicked for 25 minutes and still win?

— Josh Gearhart (@JoshGearhart10) February 9, 2020
ADVERTISEMENT
Article continues below this ad