Fans Recall Their Best Memories of Halo 2 on Its 17th Anniversary
Published 11/10/2021, 8:30 AM EST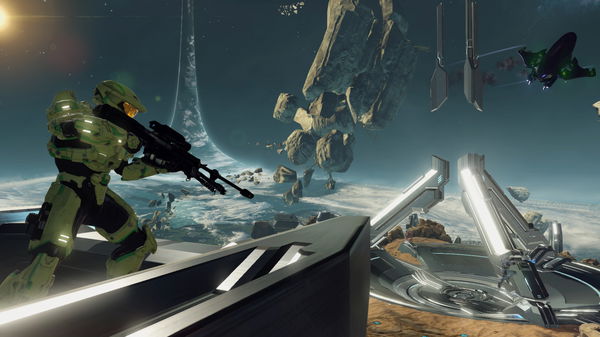 Today marks a historic day for the popular FPS Xbox franchise in Halo as the series' second game celebrates its 17th anniversary. On November 9 2004, developers Bungie released Halo 2 following the massive success, which was Combat Evolved.
The title had some massive shoes to fill as Combat Evolved changed multiplayer gaming forever. However, according to fans, Bungie smashed it out of the park with an experience unlike no other. As many fans celebrated the game's 17 year long existence, here are some of the best memories and wishes shared by the community on this auspicious day.
Fans celebrate 17th anniversary of Halo 2
Twitter lit up yesterday with fans of Halo 2, who wished the game on its 17th anniversary. Many players shared their many memories of playing the game when it first arrived for the Xbox 360 back in 2004. The marquee Bungie franchise also had a lot riding on its shoulder when it first released Halo: Combat Evolved. However, many believed that it was unfathomable for the developers to improve on that.
However, fast forward 17 years later, and Halo 2 is considered to be the GOAT of the franchise. While some may argue that Halo 3 and Combat Evolved might be a bit better, most would prefer the series' second title. But why do many fans call it the best game of the franchise?
Why the title still stands out for fans?
When it comes to storytelling, fans agree that Halo 2 was the high point in that regard for the franchise. The developers at Bungie expanded a lot from the base provided by Combat Evolved. With greater emphasis on the Covenant and the Flood, the developers showcased a storyline which kept fans hooked till the end. To add to the stellar storytelling, the developers improved on the gameplay as well.
Halo 2 added new enemy types such as Brutes and Buggers, which made fighting the Covenant fun. Along with that, the developers also introduced new weapons, duel wielding and many other features which have become a staple in the FPS world. To cap off everything, the game also has the best soundtrack in the franchise as well.
In the end, fans have mentioned how important the title has been for both Xbox and the franchise as well. With the release of Halo: Infinite next month, fans have bestowed a lot of hope on 343 Industries to create another epic adventure for the fans, and so far, everyone believes that to be the case.
WATCH THIS STORY: Top-Selling PlayStation, Xbox, and Nintendo Consoles of All Time