FC Barcelona Continue to Struggle as they Wait for a Fully Fit Lionel Messi
Published 09/22/2019, 6:49 AM EDT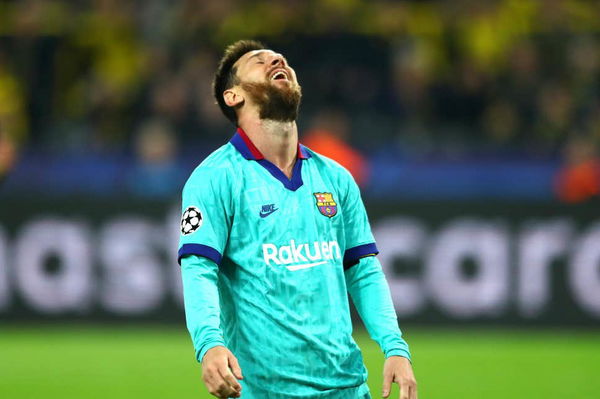 FC Barcelona continue to struggle waiting for their talismanic captain Lionel Messi to be fully fit. Messi featured for the first time in LaLiga, but Barcelona were already behind when he came in as a substitute, and could not salvage anything as the Catalans lost 2-0 to Granada.
ADVERTISEMENT
Article continues below this ad
Messi, who has been recovering from injury that he picked up in the pre-season, played a few minutes in the mid-week's Champions League fixture against Dortmund. He did not play in the league till he came in as a second half substitute against Granada. Barcelona were already behind after conceding in the second minute. Granada scored once again in the second half through
Luis Suarez, who was back leading the line after his injury, expressed his disappointment after the match.
ADVERTISEMENT
Article continues below this ad
"It's a defeat that hurts. We have to analyse a lot of things and be self-critical in order to improve moving forward," Suarez was quoted as saying by the Sport.
"The game became complicated for us from the off. We were losing almost from the first minute and that made things much more difficult.
"We had a lot of possession of the ball, but we were not convincing and we didn't create chances.
"We have to accept that we're obliged to win games and we're not doing it. There's a long way to go, but these are the games that can give you the league. It's the moment to analyse what's going on. It's going to be a long, complicated year."
Barcelona have failed to win their first three away LaLiga matches for the first time since 1994-95 and their points tally of seven points after five games is also their lowest since.
Valverde addressed this worrying fact after the match taking the blame on himself
He said, "I am worried. Away from home we're not getting good results. When this happens in a game, you're desperate for the next game, but now it's been two, three, four games (away), it's a symptom of us not playing very well. There are players that came back late for preseason, but we're not good on the road. We're not playing well. We're dominating, but we're not translating that into chances. And the opposition are being really effective. But it's no excuse."
The loss now sees them without a win in all competitions for the last seven away games- the longest streak since 2001.
ADVERTISEMENT
Article continues below this ad
"It's about taking responsibility for what happens. The actors are the players, the ones that get it wrong or right on the pitch, but the coach is responsible and I feel responsible for what happened. You can win or you can lose a game, but when you lose you need to do so deserving to win and today that wasn't the case," Valverde further went on to say.
Another worrying fact for the Catalans is that they have now conceded most goals
"We've conceded the most goals? It's not a good statistic for us. It's not in line with what we've done in recent years. The opposition are having a lot of success against us. But Dortmund made the most chances and they didn't score. It's because we're not playing well, especially away from home."
ADVERTISEMENT
Article continues below this ad
Valverde also felt they needed to be better in the final third.
"We're not good enough in the final third. You can play close to the rival's box but you have to do more. for many reasons, that's not happened. it happened in Dortmund and Pamplona as well."