FC Barcelona Sack Ernesto Valverde
Published 01/15/2020, 11:30 AM EST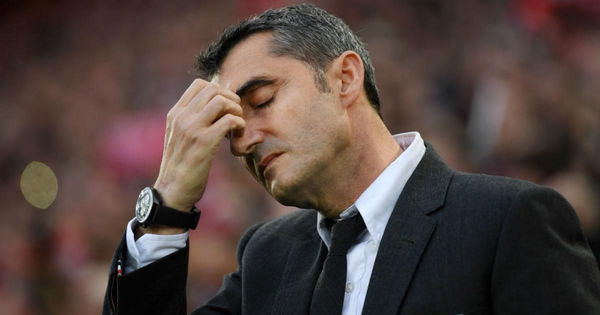 ---
---
FC Barcelona recently announced that Ernesto Valverde has reached an agreement to terminate their contract. Joining in the club in the summer of 2017, Valverde's tenure came to an end this year. The club thanked him "for his professionalism, his commitment, his dedication and his always positive treatment towards all that make up the Barca family".
ADVERTISEMENT
Article continues below this ad
Agreement between FC Barcelona and Ernesto Valverde to end his contract as manager of the first team. Thank you for everything, Ernesto. Best of luck in the future. pic.twitter.com/zrIgB1sW2e

— FC Barcelona (@FCBarcelona) January 13, 2020
ADVERTISEMENT
Article continues below this ad
Why was Ernesto Valverde sacked?
Coaching 163 games in his spell at Barca, he achieved various trophies with the club. Out of all the games, he won 108, draw 35, and was defeated in 20 games. The trophies he claimed were 2 La Liga titles, a Copa Del Ray and a Spanish Super Cup.
The reigning La Liga champions, and still on top of the league, it seemed like Barcelona had it going for them. The club had a different viewpoint which is why Valverde had to leave with just 2 years as their manager.
The lack of European Championships and their performance outside Spain was troubling for the Catalans. The fans and the club demanded more which Valverde just couldn't achieve.
Ever since Liverpool defeated the Spanish giants 4-3 in the Champions League, the managerial position always hung in balance. Blowing a 3-0 lead was a huge blow for the club. Being held to draw against Slavia Prague and going another year without a Champions League was a doubt that floated over Valverde's head.
Enrique Setien's Reign at FC Barcelona Begins
Barcelona appointed Enrique Setien Solar as their new head coach. The news of the managerial changes took place in the span of 15 minutes. Solar was appointed manager as soon as Valverde's contract was terminated.
ADVERTISEMENT
Article continues below this ad
Setien will have a mammoth of a task on his hands. The managing of the great Barcelona with wonderful players at his dispense, it will be tough for him to adapt.
Setien used to manage Real Betis and helped them reach their best finish since 2005. The club finished 6th which they hadn't achieved for the past 12 years since.  Setien also made the club finish 10th in the previous season, even though he was sacked in May.
ADVERTISEMENT
Article continues below this ad
During his last tenure in 18/19 season, he defeated both FC Barcelona and Real Madrid in the same league, that too at their respective homes. The team also defeated Atletico Madrid yet Setien was let go from his managerial duties.
The appointment as FC Barcelona's manager will be a huge boost for the 61-year-old as he will plan to deliver the same. The task is a big one, and only time will tell how Enrique Setien Solar fares in his new chapter of the journey.