Federer still surprised at lack of doping tests
Published 11/13/2015, 11:45 AM EST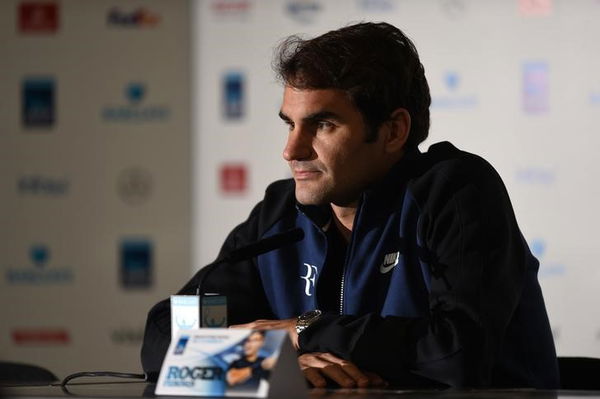 ---
---
By Martyn Herman
ADVERTISEMENT
Article continues below this ad
LONDON (Reuters) – Roger Federer believes tennis players should undergo more anti-doping tests to ensure the sport does not suffer the problems that have plunged athletics into crisis.
The Swiss 17-times grand slam champion said he was still surprised when he walks off court and is not routinely asked to provide a doping sample.
ADVERTISEMENT
Article continues below this ad
He has also called for more out-of-competition tests.
Speaking at a news conference at London's O2 Arena where the ATP World Tour Finals begin on Sunday, the 34-year-old said: "I think they are trying their most but we can do more.
"Whenever you make the quarter-finals of a tournament, when the points are greater, the money is greater, you should know that you will be tested.
"I think that would be very clear and simple. And if they keep the tests for longer, I'm all for that, not just weeks and months, years I'm talking about. That's the way to scare people."
Federer was talking following a World Anti-Doping Agency (WADA) report, published on Monday, which said there was a state-sponsored doping culture in Russian athletics and that other sports could also be affected by the issue.
Federer has confidence in the Swiss anti-doping model, but said out-of-competition testing was still not frequent enough.
"I feel like the Swiss programme is tough and strict but out of competition testing could definitely increase as well," the world number three said.
"I still think that should happen more frequently and I'm sure the Swiss do things how it should be done, so you can try to imagine how others do it."
He said he been tested out of competition about five times this year.
"There needs to be more resources," he said. "It's very important. Players need to feel that they're going to be tests. So they will shy away from any silly thought they might have."
ADVERTISEMENT
Article continues below this ad
"I'm always surprised when I walk off court after a final and I'm like 'where is anti-doping?'"
Asked if the WADA report had surprised him, Federer said: "No. But then it says there are other nations that are not doing it properly either."
The Tennis Anti-Doping Programme, introduced in 1993, is administered by the International Tennis Federation (ITF) along with the ATP Tour ands WTA Tour.
ADVERTISEMENT
Article continues below this ad
Out-of-competition tests began in 2005.
(Editing by Ed Osmond)