Federer vs Djokovic – Semifinal Preview
Published 01/28/2016, 12:58 AM EST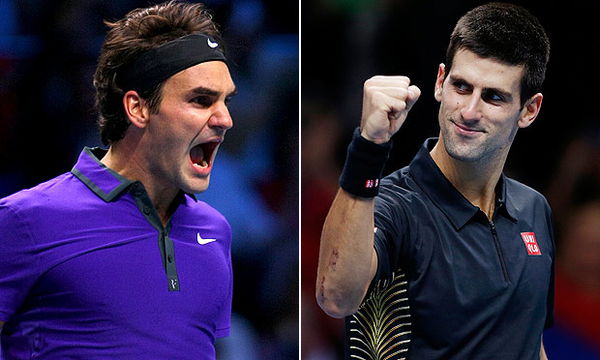 ---
---
The grand-daddy of tennis matches is upon us. Probably a round earlier than what most would have liked. Roger Federer and Novak Djokovic, the world no. 2 and 1, are to clash at the Rod Laver Arena on Thursday, in the most behemoth of all clashes, for a place in Sunday's final of the Australian Open.
ADVERTISEMENT
Article continues below this ad
Arguably, this is the Final before the final, a summit clash between the 2 who reign supreme.
Both come into the match in similar form. Neither has been flawless, but both have looked sharp and close to their best in the preceeding rounds.
ADVERTISEMENT
Article continues below this ad
Djokovic has made some hard work of the task at hand in some of the previous matches. Up until the 4th round, he hadn't lost a set but had been taken to the tie break a couple of times.
The 4th round, where he faced Gilles Simon, was the round when everything went for a toss. Djokovic's form deserted him, and uncharacterstically, for a man who lives by the razor sharp precision of his game, Djokovic committed Unforced Errors aplenty, with the final tally standing at an astounding 100+.
But this was the match where he showed the iron will that powers him, banking on the physical and mental endurance to take him through when all other seemed to have fallen by the wayside. It was a 5 set thriller, Djokovic triumphing 6-3 in the final set, having lost the only 2 sets he has lost at this year's Open.
In the QF, he faced Japanese dangerman Kei Nishikori, who always delivers when he plays the World No. 1 Serb. But just when it looked like the Japanese might expose some chinks in the Nole armour, Djokovic steamrolled him, in a match that resembled more an exhibition match, and less a QF, simply for the sheer number of errors Nishikori was committing. Djokovic barely broke a sweat in a 6-3, 6-2, 6-4 victory, claiming a spot in the SF.
Roger Federer comes into the SF in a similarly rich vein of form, having got the better of all his opponents comprehensively. He has only lost 1 set yet, to 'Baby Fed' Grigor Dimitrov, in the 3rd round.Apart from that, all have been straight set victories, and Federer would surely have been delighted to see off Tomas Berdych in the QF in a clinical display.
Though he isn't back to his vintage best yet, it must be remembered, after a not so great start at Wimbledon last year, Federer upped the ante in Mad Max-esque style in the semi-final itself, against Andy Murray, acheiving an astounding 90% of first serve percentage. He thrives under this sort of pressure, for it never gets to him. Externally, atleast.
ADVERTISEMENT
Article continues below this ad
The autopilot mode that Federer has been operating on, in the tournament does augur well for him, but it might also be seen as a threat. He hasn't yet been tested in the tournament, and hasn't had to rely on experience and holding his nerves to get through.
It won't bode well for him, if his first 5 setter in the tournament, happens to be against a player of Djokovic's calibre, for the Serbian's cyborg-like stamina will surely take him through for he never tires.
Djokovic, on the other hand, was nigh impossible to beat last year, and in 2016, he has picked up from where he left off. Factors like a partisan crowd in his opponent's favour, the Djoker thrives on them, for a genius demands an audience. And there's nothing Djokovic craves more than the adoration of the watching public.
ADVERTISEMENT
Article continues below this ad
There have been talks of where Djokovic will end up, on the list of all time greats, when all is done and dusted. Seeing him play, it isn't hard to fathom an all time Top 5 spot. He seems unstoppable at the moment, and Grand Slams a mere exercise, before he is handed yet another trophy.
But, in the absence of Rafa Nadal, if there's one man who can stop him, it is Roger Federer. Nearing 35, the Swiss still remains in imperious form, and he looks to be in the groove and the mood to add another Grand Slam to a list of 17. Federer vs Djokovic is a clash of the titans, and the last man standing will go into the Final on Sunday as the overwhelming favourite.