FIFA official Napout agrees to extradition to U.S. – Swiss
Published 12/08/2015, 1:20 PM EST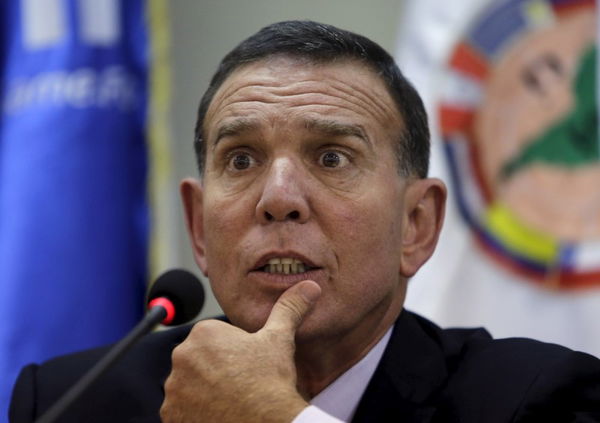 ---
---
ZURICH (Reuters) – FIFA Vice-President Juan Angel Napout, head of the South American football confederation CONMEBOL, has agreed to be extradited to the United States in a soccer corruption probe, the Swiss Federal Office of Justice said on Tuesday.
ADVERTISEMENT
Article continues below this ad
Napout, a citizen of Paraguay, was detained in Zurich last week on a U.S. warrant accusing him of accepting bribes worth millions of dollars in connection with the sale of marketing rights to football tournaments in Latin America.
He and Alfredo Hawit of Honduras, acting president of the CONCACAF soccer confederation, were arrested in a pre-dawn raid by Swiss police at a hotel near the headquarters of FIFA, which has been in turmoil since a first round of indictments and arrests in May.
ADVERTISEMENT
Article continues below this ad
Soccer bosses from across South and Central America were among 16 people U.S. prosecutors charged last week with multi-million-dollar bribery schemes.
Napout initially opposed extradition but agreed at a second hearing on Tuesday to go voluntarily, Switzerland's FOJ said. It gave no details on when he would be handed over to U.S. authorities.
Swiss law mandates that people being extradited must be collected by a U.S. police escort and taken to the United States within 10 days.
ADVERTISEMENT
Article continues below this ad
Corruption allegations prompted FIFA President Sepp Blatter to say in June he would resign only days after being re-elected to a fifth term.
Blatter, his deputy Jerome Valcke and European soccer boss Michel Platini have all been suspended by an internal ethics watchdog. None of them has been charged with a crime and all deny any wrongdoing.
In parallel investigations, Swiss and U.S. authorities are focusing on whether certain business contracts or the World Cup hosting rights for 2018 in Russia and 2022 in Qatar were won with the help of bribery.
ADVERTISEMENT
Article continues below this ad
(Reporting by Brenna Hughes Neghaiwi and Michael Shields; Editing by Janet Lawrence)