FIFA officials arrested for corruption
Published 05/28/2015, 6:20 AM EDT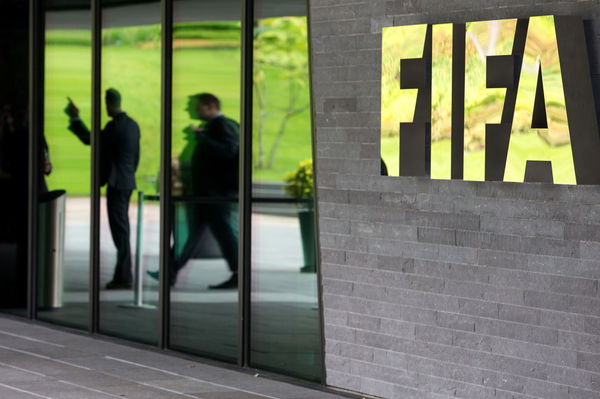 ---
---
The worldwide authority for football, FIFA, has fallen into a calamity amidst confusion as several of its top officials were arrested for supposedly accepting bribes worth over $100 million at the Baur au Lac hotel at Zurich, Switzerland, the hometown of the institution . They are planned to be extradited to the United States, where under they'll face the law. Sooner than later, there were separate investigations launched for the 2018 and 2022 World Cup bids too.
ADVERTISEMENT
Article continues below this ad
A large number, specifically 9 FIFA officials and 5 corporate executives of sports management have been indicted and arrested. The suspects were:
Jack Warner (former FIFA vice-president)
Euginio Figueredo (executive member, vice-president) 
Rafael Esquivel (President, Venezuelan football association) 
Julio Rocha (FIFA development officer)
Jeffrey Webb (Vice president, FIFA ; President, CONCACAF)
Costas Takkas (attache to Jeffrey Webb)
Jose Maria Marin (Ex-President, Brazil football Confed)
Eduardo Li (Executive committee member)

ADVERTISEMENT
Article continues below this ad
"The indictment alleges corruption that is rampant, systemic and deep-rooted both abroad and here in the United States. It spans at least two generations of soccer officials who, as alleged, have abused their positions of trust to acquire millions of dollars in bribes and kickbacks." as said by the U.S. Attorney General Loretta Lynch.
Trying to make sense and respond to the situation, the representative from FIFA called up an impromptu press meet. "Timing is not obviously the best, but FIFA welcomes this process and will cooperate fully with (the investigation)," Walter de Gregorio, FIFA director of communications said. He also included "It's not good in terms of image, it's not good in terms of reputation….in terms of cleaning up…this is good." On the other hand, he completely denied any involvement of Sepp Blatter, when specifically asked about the president of FIFA. Rather, his twitter account seemed rather silent for a day. All these a few days before the friday's elections for FIFA presidency, which Sepp is again expected to win for his 5th term.
A very major decision may result from the ongoing problem, being the shifting of the World Cup after allegations had been raised on the bids placed by the countries for the 2018 and 2022 editions. Although none of the World Cups yet have been shifted, the countries who lost out, being Portugal and Spain for 2018 and USA and Australia for 2022 would be paying their keen eyes.
FIFA had been under FBI's scanner for quite some time, over several years, aided by a one time FIFA executive from USA, who wanted to weed out the money play involved. Also, a whistleblower had told the The Times of London that she witnessed several African FIFA officials receiving bribes for their votes. Although after the allegations FIFA did set up an investigation of their own, they shut it down last year itself.
This might be a bad day for football, but only good comes out of it. If the moneyball dice is stopped from rolling, and the system becomes more transparent, football and not money would win. For the love of the sport, we hope that the issue is resolved soon and those involved are punished.