FIFA World Cup: Japan Down 10-Man Colombia
Published 06/19/2018, 10:45 AM EDT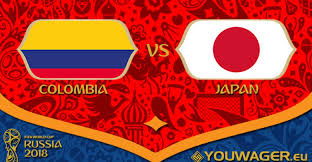 Japan kicked off their FIFA World Cup campaign with the perfect start with a 2-1 win over Colombia. The South American team had the 'honour' of getting the tournament's first red card after only three minutes.
Carlos Sanchez' handball resulted in a penalty in Japan's favour. Shinji Kagawa wasted no time in giving Japan the lead. Juan Quintero levelled for the Colombians shortly afterwards. But then it was all over when Yuya Osako headed the winner after the break.
Osako created the game's first chance, with an early cross that was claimed by goalkeeper David Ospina.
The game livened up after three minutes when Osako got clear down the middle and Ospina saved his strike. However, it left him exposed to Kagawa's follow-up, which was blocked Sanchez's arm.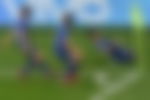 Sanchez had the unfortunate title of becoming the first player to be sent off at the 2018 World Cup. In the subsequent penalty Kagawa calmly gave Japan the lead from the spot.
As the 10 Colombians tried to fight back, Santiago Arias tried to find Radamel Falcao with his cross but failed. Later, Falcao's touch to a Quintero free kick was straight at keeper Eiji Kawashima.
Then, Juan Cuadrado stepped away as Colombia made a tactical change. Another Falcao shot once again found Kawashima's safe gloves. The South American team got their break, courtesy a 38th-minute equaliser.
But Japan turned up the wick in the second half. As the hour approached, Colombia brought on danger man James Rodriguez. Rodriguez was benched because of a calf problem.
Barrios was booked for a foul on Kagawa, and then Inui threatened again before his shot, after cutting inside, was blocked by a defender.
With 20 minutes to go, Kagawa was replaced by Keisuke Honda. Japan came dangerously close to restoring their lead on a few more occasions.They got a  breakthrough from a corner as Osako headed home off the inside of the post.
Here is how Twitter reacted to the FIFA World Cup match.
https://twitter.com/PamelaM45/status/1009081144724283392
https://twitter.com/roehlteacher/status/1009045483606638593
https://twitter.com/the1stof8/status/1009113334451458050
https://twitter.com/NeyPiqu/status/1009109816143474688
https://twitter.com/AndrewStark89/status/1009098345674133509
https://twitter.com/Kaligula937/status/1009071765304283136
https://twitter.com/nataliesunchip/status/1009073478253805570