FIFA's Blatter blames Platini, England and U.S. for "attacks"
Published 10/28/2015, 12:03 PM EDT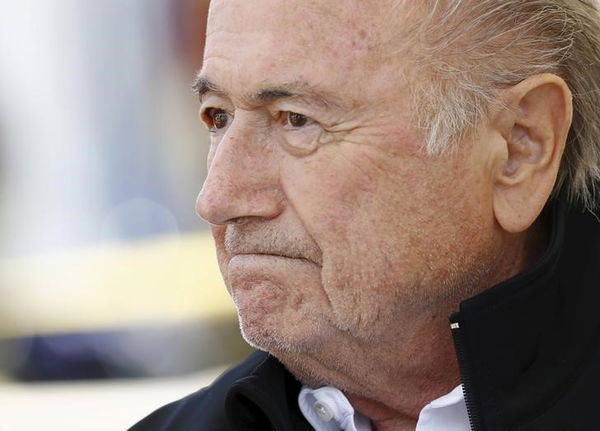 MOSCOW (Reuters) – Suspended FIFA president Sepp Blatter said he was a "ball in a big political power game" involving the United States and Russia in an interview in which he also criticised UEFA's Michel Platini for playing a part in attacks on him.
ADVERTISEMENT
Article continues below this ad
In the interview with Russia's TASS news agency, the 79-year-old Swiss also praised Russian President Vladimir Putin and said Russia would never lose the 2018 World Cup despite calls from some quarters in Britain.
Blatter is serving a 90-day suspension imposed by FIFA's Ethics Committee which is looking into a 2 million Swiss franc ($2.03 million) payment he made to Platini in 2011 – a case which is also part of a Swiss criminal investigation.
ADVERTISEMENT
Article continues below this ad
Blatter, who has been president of FIFA since 1998, said politics was behind "attacks" on him which followed the indictment of 14 soccer officials and sports marketing executives by U.S prosecutors in May.
"At the beginning it was only a personal attack. It was Platini against me. He started it, but then it became politics," he said in the interview published on Wednesday.
"And when it is in politics, it is not any longer Platini against me. It is then those who have lost the World Cup. England against Russia. They lost the World Cup. And the USA lost the World Cup against Qatar.
"But you cannot destroy FIFA. FIFA is not the Swiss bank. FIFA is not a commercial company. So, what they have done together with the Swiss, they have created this attack towards FIFA and the president of FIFA," he said.
"And you are from TASS and you know what are the problems between your country and the U.S. The FIFA World Cup or the FIFA president is a ball in the big political power game," he said.
Denouncing England as "bad losers" for losing the 2108 World Cup to Russia, he said: "In Great Britain they have made this beautiful game, they have introduced fair play. But there was only one vote going for England. They were eliminated in the first round. Nobody wanted to have England".
Blatter said Russia's preparations for the tournament were going well and he had warm words for Putin whom he described as a "good friend of Joseph Josephovich", referring to himself in Russian style.
"You know what I like in Russia also is that in difficult situations I still have the full support of President Putin. This is good. And I support him in all discussions, in all situations," he said.
"ENVY AND JEALOUSY"
Blatter, who said he regretted not standing down as he initially planned in 2014, argued there was "envy and jealousy" of FIFA's commercial success but rejected the suggestion that the current crisis at FIFA was a de facto 'American takeover' of the body.
"Personally I don't think so. Because even speaking about the American takeover of FIFA – football, the real football, where is the real money, where are the good players, the good competition – it's Europe. They cannot take it. It's not the way Americans would have business. I don't think it is in their business thinking.
Blatter said FIFA's Ethics Committee, whose decision he is appealing, had bowed to pressure to remove him.
"I think it was the pressure of the media. It was the pressure to get rid of the FIFA president. Unfortunately, Platini was in the same boat. And they wanted to say – We, Ethics Committee, we are not at the service of the president, we are totally independent. This is wrong.
"They can be independent but they don't need to be against me," he said.
ADVERTISEMENT
Article continues below this ad
Blatter suggested Swiss media coverage of him was tainted by "primitive" prejudices about his origins from the small canton of Valais.
But after 17 years in football's top job, Blatter said he hoped he would be cleared in time to lead FIFA's congress on Feb. 26, which will elect a new leader.
"If God is with me, I do hope that I'll be back as president of FIFA. Then I could at least conduct this congress. This is my dream," he said.
ADVERTISEMENT
Article continues below this ad
($1 = 0.9839 Swiss francs)
(Reporting by Simon Evans; Editing by Richard Balmforth)