First day-night Test to be hosted by Adelaide Oval
Published 06/29/2015, 3:37 PM EDT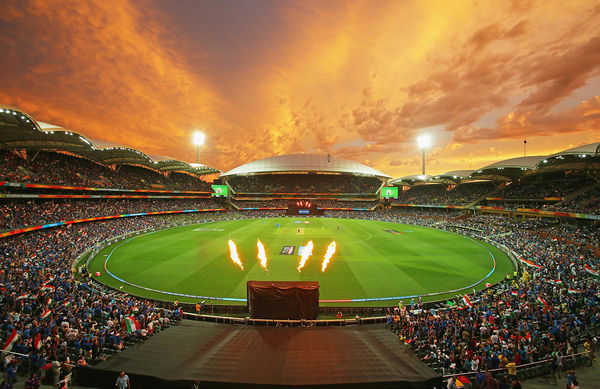 ---
---
Good news for Test cricket fans! The first day-night Test match that will be played between hosts Australia and neighbors New Zealand has finally gotten its host. Cricket Australia confirmed Adelaide Oval as the venue for the historic Test match.
ADVERTISEMENT
Article continues below this ad
The Test will be played from 27th Nov.- 1st Dec. 2015 using the pink Kookaburra balls. This Test match will be the last of the 3-Test series between Australia and New Zealand during the Australian summer.
The idea of holding a day-night Test match has been in a debate for a long time and with experts analyzing all measures to restore the viewer's interest in the longest format of the game, this step is surely a big leap in realizing that. In an era of T20 cricket, with boundaries hammered every couple of deliveries and a carnival-like atmosphere, there was a big dip observed in the viewership of the ultimate form of cricket.
Heads of both Cricket Australia (CA) and New Zealand Cricket (NZC) said that this Test will ensure the reinvention of Test cricket. James Sutherland, head of CA, said, "One of the global challenges with Test cricket is that most of the matches outside holiday periods are played on week days, in the middle of the day when people are at work and kids are at school. By shifting the playing times each day's play can go into the evening and allow people to come in after work or after school to attend the last few hours of play, but also when they get home in other parts of the world or other parts of the country, they can watch the game on TV."
David White from NZC said,"Since the first Test in 1877 there have been numerous changes to the laws and rules in an effort to ensure the game remains relevant and this is another. As administrators we owe it to the game to keep exploring ways of moving forward."
The day-night Test will surely feature some interesting changes. The Test will commence at 2.30 PM (local time) and stumps shall be called at 9.30 PM (local time). Instead of having a lunch break as the mark of the end of first session, there will be a 10-minute tea break, and at the end of the second session, a 40-minute dinner break will be taken.