"F**king Legend" – Daniel Ricciardo Pens an Emotional Tribute to Valentino Rossi After His MotoGP Retirement
Published 08/08/2021, 4:07 PM EDT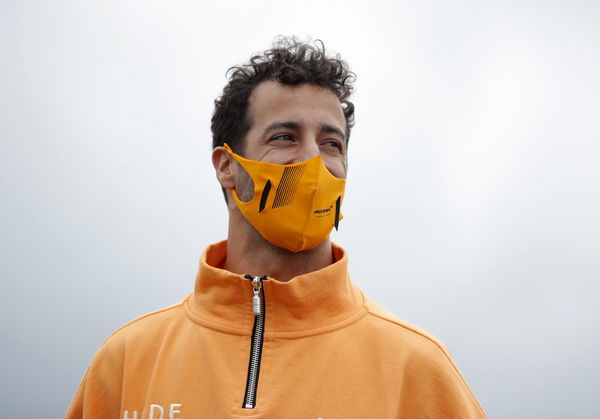 ---
---
Earlier this week, Motorsport legend Valentino Rossi announced his retirement from the sport. F1 bid adieu to the racer by honoring his legacy through various posts. One such post came from Australian driver Daniel Ricciardo who took a moment to appreciate the legacy Rossi is leaving behind.
ADVERTISEMENT
Article continues below this ad
Ricciardo described "the joy, happiness, and excitement [Rossi] brought to so many TV's and race tracks around the world." Ricciardo stated that these qualities will unequivocally go unmatched and wished the Italian a happy retirement saying, "long may your passion continue."
ADVERTISEMENT
Article continues below this ad
Ricciardo also promised to visit Rossi's ranch in Italy at the end of the season. He ended the moving goodbye message with: "On behalf of pretty much the whole world, Grazie! You're a f*cking legend mate. WLF."
The "WLF" is an ode to the letters on Rossi's leathers.
Valentino Rossi's F1 stint
One of the biggest "what-ifs" in F1, Valentino Rossi could have been a Formula One driver. Rossi tried his hand at racing with Ferrari in 2006. The racing champion lapped half a second of Michael Schumacher, which made the Ferrari driver feel "incredulous."
The Italian team had made an offer to Rossi; he would first be a test driver for the team and then shift to a satellite team. If these steps went successfully, Ferrari would hand him the red jumpsuit.
The Doctor declined the offer and continued his career on two wheels. He didn't completely cut ties with F1, though, as he continued to test for Ferrari and even swapped rides with Hamilton in 2019.
Daniel Ricciardo on two wheels
While Rossi was experimenting with the Mercedes in 2019, Daniel Ricciardo tried his hand with motorbikes. Daniel spent some time with Sete Gibernau, one of Rossi's rivals in MotoGP. The Australian has expressed his love for motorbikes and dirt bikes often on his YouTube channel and experienced the feeling by completing a run with Gibernau in 2019.
Ricciardo explained the reason he didn't get into two-wheeler racing was his mother. "As a kid, Mum wouldn't let me ride two wheels because she was scared, basically, and she thought four wheels was enough."
ADVERTISEMENT
Article continues below this ad
The excited adrenaline junkie he is, Ricciardo simply explained his experiment with bikes, " It was so, so cool."
He added, "It's so different to what we know, but the one thing in common is the speed and the feeling of pushing something to the edge. It's a motorsport, so even though it's so different and strange, the love and the desire to do more is really high."
ADVERTISEMENT
Article continues below this ad
Surely, Ricciardo is spending his summer break having fun and doing crazy things, it's important he gets back to the four wheels of the MCL35M as focused as ever. Daniel has had a tough start to the season, but maybe the tables will turn for the Australian for the second half.
Watch this story: Ferrari Strategy Fails We Will Never Forget