Flamini : Shocked to see Cech at Arsenal
Published 07/30/2015, 10:08 AM EDT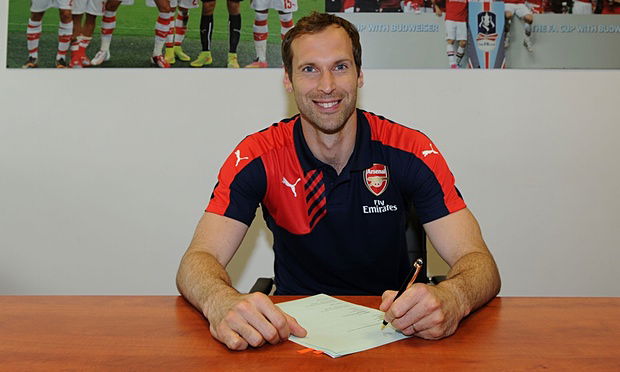 ---
---
Arsenal midfielder Mathieu Flamini has thanked Chelsea FC boss Jose Mourinho for allowing  goalkeeper Petr Cech to join the Gunners. Cech was signed by Arsenal for £11 million from London rivals Chelsea earlier this month, bringing an end to his 11-year long spell with the Blues.
ADVERTISEMENT
Article continues below this ad
Flamini has stated the 33-year-old goalkeeper's arrival at the Emirates came as a shock for him. The France international also claimed that Mourinho's decision to allow Cech to leave Chelsea might come back to haunt him, with the Czech Republic international all set to make his competitive debut against his old team-mates in the Community Shield on Sunday.
"I was surprised by Mourinho because he really doesn't do that," Flamini told Daily Telegraph in an interview.
ADVERTISEMENT
Article continues below this ad
"He's a competitor and usually doesn't like to sell any players to his rivals, but it's a good favour for us and now we have to take advantage. That's why we have been lucky on this one.
ADVERTISEMENT
Article continues below this ad
"It's very important. Not only for his quality but also for his character. When you play at the top level, the leaders on the pitch make the difference. Not only when things go well but especially when things go bad. So, for us, Petr Cech is a top signing. He is someone with character, someone with a winning mentality."
Flamini stated that Arsenal are altogether different and a much better team now than it was in 2008, when he first left the Gunners. The 31-year-old Frenchman also shed light upon the marquee signings Arsenal have added to their squad in the last two years.
"I can feel Arsenal now is different to the club I left in 2008. I don't think any of the key players left in the last two years. It's a great example," Flamini added.
ADVERTISEMENT
Article continues below this ad
"And each year we have added quality players like Mesut Ozil, Alexis Sanchez and Petr Cech. These are players who can make the difference at any moment. So I think we have a very good chance."
More from EssentiallySports on Arsenal