Footage Shows Driver Escaping Safely Because of Halo After F2 Crash
Published 09/04/2019, 3:20 PM EDT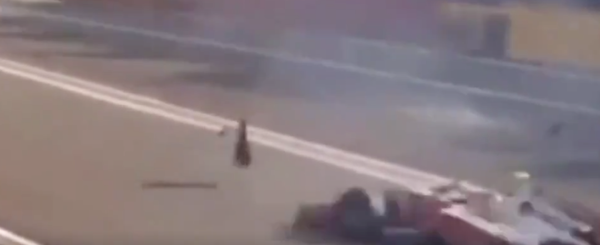 ---
---
Once again, the HALO has proven it's worth, and this time it is at the Belgian Grand Prix. The F2 crash in Belgium was already horrific and it claimed the life of poor Anthoine Hubert. In addition to that, Juan Manuel Correa also landed in hospital with two broken legs and a spinal injury.
ADVERTISEMENT
Article continues below this ad
However, had it not been for the HALO, the consequences could have been a whole lot worse. Apparently, it transpired that Indonesian driver Sean Gelael struck stray debris from the accident. Luckily, the fairly large piece bounced off the HALO and he lived to race another day.
ADVERTISEMENT
Article continues below this ad
It actually brought back memories of the late Henry Surtees and Justin Wilson, who died after being struck by debris. It also harkened back to the 2009 Hungarian Grand Prix when a spring from Rubens Barrichello's Brawn struck Ferrari driver, Felipe Massa on the helmet. This rendered the Brazilian as unable to participate for the rest of the season
During a Formula Two race in 2009, Surtees was hit on the head by a wheel from a rival's car. The driver, Jack Clarke spun into the wall, the wheel broke its tether and bounced back across the track into the following group of cars. It then collided with Surtees's helmet and he lost consciousness, with his foot still pressing the accelerator.
Meanwhile, Wilson was fatally injured in an accident at the infamous Pocono Raceway in 2015. Race leader Sage Karam lost control of his car and crashed late in the race, sending debris airborne. Wilson failed to slow in time and the nose cone from Karam's crashed car hit Wilson's helmet as he drove through the accident scene. Wilson's car veered left into the inside wall.
During those three instances, there was no HALO, so the fatalities could not be prevented. However, during this F2 crash, the HALO certainly proved its worth to Sean Gelael as it saved his life.