Tough To Defend Suarez Now
Published 07/03/2014, 10:34 PM EDT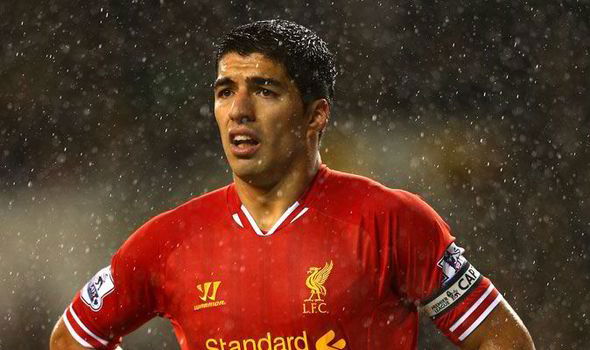 ---
---
Before we get into FIFA's recent ban on Luis Suarez, let's take a walk down memory lane to November 2010. Luiz Suarez, who was at that time playing for Ajax and gradually making a name in European football, had a moment of madness and bit Otman Bakkal on the field of play.
ADVERTISEMENT
Article continues below this ad
A local newspaper, De Telegraaf, labelled Suarez "The cannibal of Ajax". Not the sort of nickname you'd break a leg for, is it? The Dutch Federation imposed a 7 match ban on the attacker and what happened next numbed the wound significantly. Liverpool bought the troubled Uruguayan from Ajax, and thus, the ban had no significance as the player would no longer play in the Dutch League.
The Liverpool fans went gaga over their new signing, English media embraced him with open arms, but any suspicions of the player quelling down soon subsided.
ADVERTISEMENT
Article continues below this ad
The following year, on 15 October 2011, Suarez 'allegedly' racially abused French international and Manchester United full back, Patrice Evra. The FA banned Suarez for 8 games and he was slapped with a hefty fine for this act. And how did Liverpool react? Well, their then manager, Kenny Dalglish, blasted the decision openly. On top of that, the entire team wore tee shirts supporting Suarez prior to their game against Wigan Athletic.
Now, it's time to fast forward to April 2013. Suarez is now a big name in world football, people had great expectations from him, he was pretty much the "main guy" for Liverpool, or at least the one who was expected to take them to the next level.
However, those canines were back at work, and this time the victim was Chelsea's Ivanovic. Predictably, the FA put a ban on Suarez, Liverpool chose to stick by him again. Same old, same old. The way he started the season following his ban quite clearly demonstrated his "calmer persona", something he attributed to his new found love for Yoga.
He ended up scoring a mind-boggling 31 Premier League goals for his club and was the pivotal force in earning them a Champions League spot. Suddenly, 'The Cannibal of Ajax' transformed into 'A saviour for the Reds'.
The World Cup came around and the whole of Uruguay was expecting great things (unlike the 'Evil Hand' against Ghana in 2010) from their talisman. The prolific attacker started on a positive note and scored two impressive goals against England and then, just when everyone thought that Suarez will only make headlines for the right reasons, he embraced the troubled child within himself once again, something that had seemed dead for all money. At least that's what Brendan Rodgers had us believe.
Chiellini's shoulder was at the end of this scar. As expected, FIFA placed a ban on Suarez, Uruguay's manager showed his support to the man in question, hell, even Uruguay's President backed his countryman. You've got to give it to this guy, he does some pretty nasty stuff, but somehow manages to retain some of the highest profile fans!
It's not tough to comprehend that Suarez's teeth are just as noticeable as his football skills, but that does not mean that he needs to dig them into an opponent's body every now and then.
ADVERTISEMENT
Article continues below this ad
To be fair to Suarez, he is without any doubt, a brilliant footballer, and currently amongst the best in the world. Is he really the sort of player that you'd want to model yourself on though?
Liverpool fans would argue that they shouldn't have to pay for something that Suarez did playing for his country. And you can see sense in that argument, considering the fact that he wasn't banned from playing International football when he bit Ivanovic. It's not Liverpool's crime that their player has bitten an opponent while he was wearing national colours, but then again, isn't it their fault that they have been feeding Suarez' ego ever since he entered Anfield. All his mistakes would get buried under the carpet; it was almost as if he was above the team, the best in the team, a player that the team could not do without. It almost came to a point where you'd think that Suarez could even get away with a murder if he continued to score goals for Liverpool. They'd back him even then, wouldn't they?
What is tough to understand is the buzz surrounding Suarez's ban. They say that he won't bite again, but then the same was said in 2010, and then again in 2013. So you'd be a fool to think that things will be rosier now.
ADVERTISEMENT
Article continues below this ad
However, it's high time someone just got up and said that he deserves every minute of the punishment he got. After all, you only get what you plant.