Which Football Clubs do F1 Drivers Support?
Published 11/11/2018, 6:28 AM EST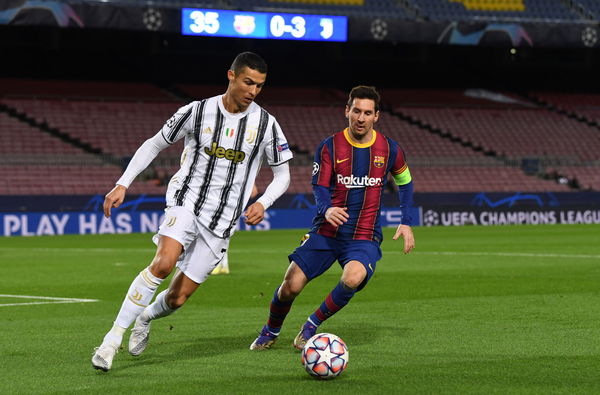 Just because a certain sports person excels in their given sport, it does not mean that they are ignorant to other sports. More often than naught, these sportsmen attend other sporting events and support other athletes and players. F1 drivers are no different and are often seen attending other sporting events.
ADVERTISEMENT
Article continues below this ad
One such sport that is universally liked is, football, and even F1 drivers are big fans of the beautiful game. Some of them, have even visited football stadiums to catch their favorite teams in action on the pitch.
Football teams that F1 drivers cheer for
ADVERTISEMENT
Article continues below this ad
Lewis Hamilton – Arsenal
One such driver is Lewis Hamilton. The Briton is the third driver in Formula 1 history to win five championships. The 33-year-old has been an Arsenal fan since he was five years old and he once stated that if racing didn't work for him, he would have been a footballer or a cricketer, having played both for his school teams.
🏎️ The G-Force from taking Eau Rouge at 190mph
⚽ @Carra23 hammering you against the boards at 5-a-side

Lewis Hamilton is the only person on the planet who has experienced the physical impact of both 😬 pic.twitter.com/vnL4GgJ3LH

— Sky Sports F1 (@SkySportsF1) February 15, 2022
The Brit is very vocal about his support for Arsenal and has been spotted at the Gunners' games with family and friends wearing the club's kit. He also stated that former Arsenal manager, Arsene Wenger, once gave him the opportunity to train with the team.
"I've had the privilege of meeting him [Wenger] a couple of times. He asked me to go and train with the team, which I have not managed to do yet, but he was always really welcoming and it was cool to meet 'our team's boss. I've supported Arsenal since I was five." – Hamilton said.
Max Verstappen – PSV
The 2021 F1 world champion, Max Verstappen, often hails Philips Sport Vereniging as his favorite Football club ever. PSV is a Dutch-based football squad that competes in Eredivisie, the top-tier of Dutch football. Following PSV, the Dutchman's second favorite football club is F.C. Barcelona.
Nico Rosberg – Bayern Munich
Nico Rosberg had an intensive rivalry on the track with Lewis Hamilton when the pair were together at Mercedes. The bragging rights on the track have mostly gone Hamilton's way but when it comes to football, Rosberg comes out on top as he supports Bayern Munich and the Bavarian club has had some memorable victories over Arsenal in recent years.
"Bayern was the first club I encountered. Again and again. When I was at my parents there was always football running – every Saturday. There you could see all the clubs. But during the week, there was mostly Bayern. I learned to love them during the Champions League evenings – something happened between me and them." – Rosberg revealed in an interview with Transfermarkt.
Football is the German's second favorite hobby after racing of course and he is also an avid supporter of the national football team. He often tweets about both Bayern Munich and Germany.
Fernando Alonso – Real Madrid
Two-time World Champion, Fernando Alonso, is a fan of defending European Champions, Real Madrid. In September 2017, the Spaniard was named an honorary Real Madrid member.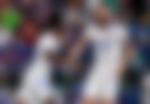 "Thank you very much, Mr. President, this is a tremendously special day for me, I do not miss anything that happens at this club and when people ask me why I am a supporter, I always say I don't know why, because I was just born to be a Real Madrid supporter," Alonso said after receiving the honor from Real Madrid President, Florentino Perez.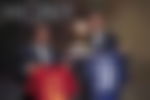 "My father was from Madrid and he instilled in me the values of this great club, my house always had a lot of football growing up," he stated.
Similar to Alonso, his Spanish F1 colleague, Carlos Sainz, also has a special place in his heart for Real Madrid. The rest of his family members, however, are huge fans of Los Blancos.
Sebastian Vettel – Eintracht Frankfurt
Sebastian Vettel is a four-time World Champion and the youngest Champion in the history of Formula 1. However, unlike his compatriot Rosberg, Vettel doesn't support the glamorous Bayern Munich, instead, he supports Eintracht Frankfurt.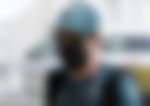 "It started because they're close to my home. Eintracht Frankfurt is the only Bundesliga club in [the state of] Hessen. That aside, they've been the most successful team in the region for years. Of course, 1899 Hoffenheim are around now too, but Frankfurt was always the go-to club if you wanted to watch a Bundesliga match. That's how the connection with Eintracht started. Over the last few years, I've got more and more interested in the Bundesliga, which is why I know my team a bit better." – Vettel said on how he became a fan of the club.
Vettel is also a keen footballer himself and has been involved in charity football matches. The German is set to lose the Drivers' Championship to Hamilton this season but he can at least be happy about the fact that Frankfurt won the DFB-Pokal this year which was its first major trophy since 1988. 
Michael Schumacher – FC Koln
Michael Schumacher is the most successful driver in F1 history with seven Drivers' Championship to his name including five in a row.
The German enjoyed playing football as a hobby and he even played for his local football team FC Echichens. Schumacher has participated in several charity football games and has also organized games between Formula 1 drivers.
Speaking on how he developed a liking for football, he said –
"Most likely it can be traced back to Toni Schumacher and Pierre Littbarski, two former German internationals. When I was a boy they were the two most outstanding players for me. They were both with 1. FC Cologne, the club that I supported. And like every other young boy I played myself as well; I was not as good as I would have liked to be, but I enjoyed playing all the same."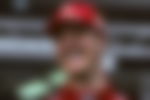 Ayrton Senna – SC Corinthians
Ayrton Senna, who is widely regarded as one of the greatest F1 drivers of all time, was a huge fan of Corinthians which is based in Sao Paulo where he was born.
Senna was once pictured wearing a white shirt with the Corinthians emblem underneath his racing overalls and the club has paid homage to the three-time World Champion on several occasions.
On 21 March 2010, on what would have been Senna's 50th birthday, Corinthians played a tape in his memory. In 2014, the club's players took the field wearing Senna's iconic helmet for a Copa do Brasil match.
The biggest tribute the club paid to Senna who died in a racing accident at the 1994 San Marino Grand Prix was unveiling a jersey in his honor on 3 October 2018. The kit featured his signature and 41 stripes which represent each of his victories.
Daniel Ricciardo – Manchester United
Daniel Ricciardo primarily follows American Football and is indeed a die-hard fan of Buffalo Bills. But, that doesn't necessarily mean that the Honey Badger shuns European Football. Turns out, he does often keep tabs on the Premier League scoresheet.
ADVERTISEMENT
Article continues below this ad
Ricciardo likes to keep an eye on Manchester United.
Pierre Gasly – Paris Saint-Germain
ADVERTISEMENT
Article continues below this ad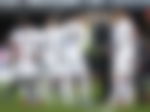 Pierre Gasly follows what is arguably the biggest football club of France. Paris Saint-Germain usually referred to as PSG also houses the best set of football players including Southern American stars, Neymar Jr and Lionel Messi. The latter made his way into PSG from F.C. Barcelona, in 2021.