Manchester United Signing Jadon Sancho Reveals the Interesting Story Behind his Tattoos
Published 07/26/2021, 6:48 AM EDT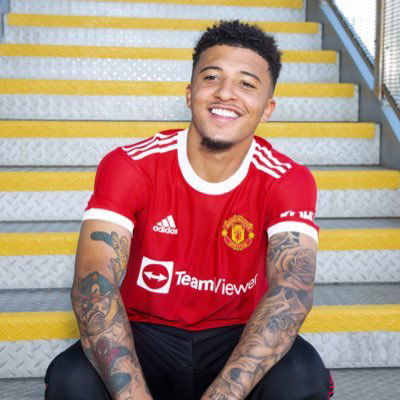 Manchester United fans had been waiting for the signing of Jadon Sancho, and when they finally got it, the club uploaded a lot of content with the young English star. He will light up Old Trafford with his displays, but for now, fans watch him speak about their club and even his tattoos.
ADVERTISEMENT
Article continues below this ad
He talked to a journalist from the club and revealed how he got the tattoos on his arms. "This is my first one, but this one is the most meaningful one because my little brother passed away when he was younger and when I was in primary school, I wrote a poem that I read at the funeral, so this is definitely my most meaningful one," Jadon said while pointing to a long text on his left arm.
ADVERTISEMENT
Article continues below this ad
Manchester United's official website revealed what the poem read: "You and me will stay together, you made us happy, you brought us joy, you were a special baby boy.
"I couldn't wait till you grew up, teach you football, and win the cup. But you're gone what can I do? Baby brother, we love you.
He added a few birds, heaven, an angel, and a butterfly around the poem. He also had his sister's and brother's initials tattooed on his bicep.
However, things were more different on his right arm as there were a lot of blank spaces and some cartoon characters on it. "Then here I kind of freestyled because I liked comics when I was younger," said Jadon.
"This isn't finished yet – obviously, there's Spiderman, Sonic, The Simpsons…I haven't finished yet so there's more to come."
Manchester United reveals the shirt number Jadon Sancho will have
ADVERTISEMENT
Article continues below this ad
Sancho's shirt number might come as a surprise to many fans as he is not going to wear the iconic #7 shirt at Manchester United. Uruguayan striker Edinson Cavani is the man who sports it on his back, and Sancho will wear the #25 at the club.
ADVERTISEMENT
Article continues below this ad
Cavani's time at the club has been very successful, as the striker has chipped in with many goals for the English club. He has essentially broken the curse of the #7 shirt at United, and hence fans might not entirely disagree with the club's decision to let him keep it over Sancho.