Former Duke Center & Analyst Jay Bilas Describes How He Instantly Regretted Playing Against A Young Michael Jordan
Published 03/15/2021, 11:58 PM EDT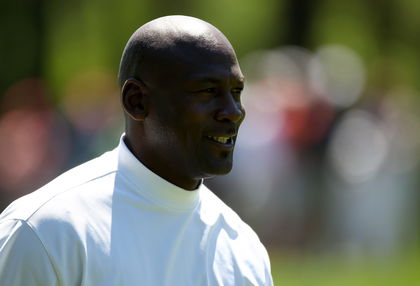 ---
---
Michael Jordan is arguably the greatest player to ever play the game of basketball. Ever since Jordan made his debut in 1985, it was evident the superstar MJ would eventually become.
ADVERTISEMENT
Article continues below this ad
In the 15 seasons he played in the NBA, 'His Airness' ended up with 6 NBA championships, 6 NBA Finals MVPs, 5 MVPs and making the All-Star team 14 times. But how good was MJ in college?
NBA analyst Jay Bilas describes his experience playing against Michael Jordan
ADVERTISEMENT
Article continues below this ad
Jay Bilas might be known as a prime analyst for college basketball, but the 57-year-old did play substantial amount of college basketball in one of the finest teams in Duke Blue Devils.
The former center recently made an appearance at the Dan Patrick show. There the 57-year-old described his experience about facing off against Michael Jordan in college.
Bilas said, "It was at a pickup game in Chapel Hill at a place called Woollen gym. We were the number one ranked recruiting class, and we went over to Chapel Hill to play."
"After playing against, you know, Jordan and those guys, we were kind of looking at ourselves going, I don't know if this is gonna, this might not have been a good decision."
Bilas later added that it was evident that Jordan was set for superstardom. "People would say, Hey, did you know in college the Jordan was going to be great like, Yeah, Yeah, we did. We knew."
"You know, when you played against him and Len bias and Ralph Sampson, you're kind of going alright, whoever said All men are created equal, that's BS, like that's just not true."
Both Sampson and Len Bias like Jordan were high picks in their respective drafts. While Sampson enjoyed some great years in Houston, Bias suffered through a tragedy and passed away two days later after being selected by the Boston Celtics.
When MJ absolutely torched the Duke Blue Devils
After coming off of a victorious NCAA championship run, the Tar Heels lost a key player in James Worthy. Worthy ended up declaring for the 1982 draft, leaving an enormous gaping hole in Heel's offense.
ADVERTISEMENT
Article continues below this ad
Enter sophomore Michael Jordan. The 20-year-old saw was coming off of a solid rookie season. Suddenly, MJ became the focal point for the Heels' offense. Jordan embraced the role. In the 36 games he played, he averaged 20 points, 1.6 assists, and 5.5 rebounds per game.
The intense rivalry between the Tar Heels and Duke is well-documented. In the 1980s, it was certainly at its peak. Given that the Heels were a new look team, it was uncertain whether they could defeat the Devils.
ADVERTISEMENT
Article continues below this ad
Jordan didn't have a doubt in his mind, torching Duke and scoring a game high 32 points. The Heels ultimately defeated the Devils 105-91. To this date, it remains one of the most embarrassing losses ever in Duke history.