Former F1 Driver Elaborates Why Lewis Hamilton and Fernando Alonso were the Strongest Pairing Yet
Published 03/21/2020, 7:35 AM EDT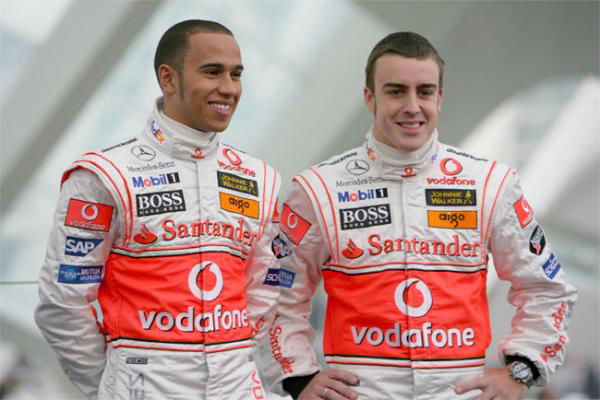 ---
---
Former F1 driver Pedro de la Rosa claimed that the pairing of Fernando Alonso and Lewis Hamilton was the best Formula 1 best pairing of all time. The Spaniard made this statement whilst on the 'Beyond the Grid' podcast. De La Rosa was Mclaren's test driver in 2007. This meant that he had the best seat in the house to watch the rivalry between the main drivers unfold.
ADVERTISEMENT
Article continues below this ad
The 2007 McLaren Formula 1 season
2007 saw the move of Double World Champion Fernando Alonso to McLaren. His partner was the rookie Lewis Hamilton. The partnership between Hamilton and Alonso lasted for just one season. Alonso was reportedly frustrated at the team's decision to treat both drivers as equals. Alonso claimed that his raw teammate frequently got the better strategies that McLaren vehemently denied. The McLaren duo ended the season in 2nd and 3rd place. Each driver secured 109 points. Their combined haul of 218 was the most by any team that season. However, McLaren was disqualified from the season's Constructors Championship over the 'Spygate.'
ADVERTISEMENT
Article continues below this ad
De la Rosa expressed surprise at how the animosity between the duo exploded leading to Alonso quitting the Woking-based team. He returned to Renault for 2 lean years.
De la Rosa added that new generations are stronger when quizzed about his choice of best partnership in F1.
Lewis Hamilton-Fernando Alonso respected each other
De la Rosa surprisingly claimed that the duo was always respectful of each other. "There was nothing wrong done at the racetrack between them," he added. Purists will be quick to point at Alonso impeding Haniltin during qualifying at the Hungaroring. This deprived him of a shot at one final flying lap. De La Rosa went on to remind 'Beyond the Grid' host Tom Clarkson that there was never any pushing or attempting to run the other of the track.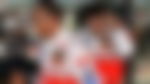 "Two gladiators fighting bravely at the racetrack so I have no bad memories about that. Both were massively fast, talented, and then I think Lewis learned a lot from Fernando that year," added De La Rosa. Hamilton grew as a racer and is now a 6 time World Champion. Only one behind Michael Schumacher's all-time record of 7
ADVERTISEMENT
Article continues below this ad
De la Rosa: New generations are stronger
As test driver de la Rosa was in the driver's seat to see the rivalry unfold. He recalls looking at the data and wondering whether the duo was from another planet. This new generation comment is the reason De La Rosa overlooked the Senna-Prost pairing at McLaren. His words, "strongest there's ever been" combined with, "new generations are stronger" leads to doubts over why the Hamilton-Rosberg partnership wasn't named as the strongest in F1. Their dominance in the 2016 Formula 1 season was a sight to behold.
The last decade has seen another formidable driver pairing on paper.  Unfortunately, they didn't have a car to match their abilities. It is understandable for De la Rosa to label what he witnessed unfold right before him as "the best."
ADVERTISEMENT
Article continues below this ad
"Nothing against Senna-Prost," said De La Rosa. The duo is always his heroes, but, the level between Alonso and Hamilton was – amazing