Former German FA boss says that the slush fund allegations are true
Published 10/23/2015, 2:58 PM EDT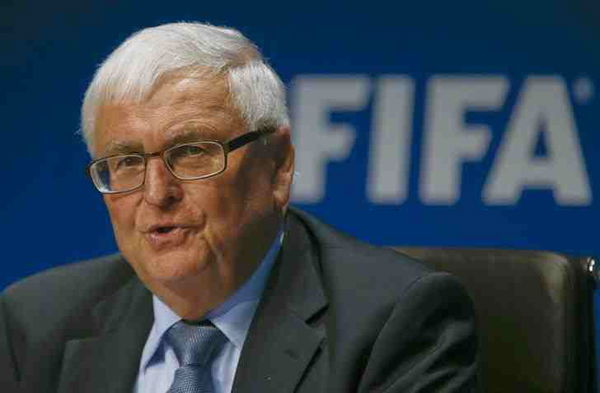 BERLIN (Reuters) – Germany's former top football official told a news magazine on Friday it was true that the country had used a secret 'slush fund' to pay bribes for the right to host the 2006 World Cup, contradicting repeated denials by his successor.
ADVERTISEMENT
Article continues below this ad
The comments by former German Football Association (DFB) president Theo Zwanziger looked set to fuel a deepening crisis over the running of world football, whose governing body FIFA is the target of corruption investigations in Switzerland and the United States.
"It is clear that there was a slush fund for the German World Cup bid," Zwanziger told Der Spiegel magazine, which first reported the allegations last week.
ADVERTISEMENT
Article continues below this ad
He brushed aside denials about the existence of the fund by Wolfgang Niersbach, the man now in charge of the association.
"It is also clear that the current DFB president knew about it — not, as he says, just a few weeks ago, but at least since 2005. The way I see it, Niersbach is lying," Zwanziger said in his first public comments on the affair.
He did not say how and when he himself knew of the fund's existence, or why he believed Niersbach was aware of it.
Efforts by Reuters to contact Niersbach on Friday were unsuccessful.
On Thursday, at a hastily arranged news conference in Frankfurt to address the accusations, Niersbach said: "Everything was legal with the awarding of the 2006 World Cup. No slush funds and no bought votes. This allegation … is not true."
Niersbach also said, however, that he could not fully explain a payment of 6.7 million euros ($7.5 million) from Germany's World Cup organising committee to FIFA in 2005. The DFB has commissioned an investigation into that payment.
Zwanziger, in charge of the DFB from 2006 to 2012, has had a poor relationship with Niersbach since he left office, with the pair locked in a row over Niersbach's pension plan.
Zwanziger had taken the matter of Niersbach's DFB pension to the ethics committee of FIFA, saying a DFB president should not be receiving it as it was an unpaid honorary position. The DFB supported Niersbach, and in March, the FIFA committee cleared Niersbach of breaking its ethics rules.
PAYMENT TO FIFA
Der Spiegel first reported last week that Germany's 2006 bid committee tapped into a secret fund to buy votes, alleging it had been set up with 6.7 million euros from the late Robert Louis-Dreyfus, chief executive of German sports equipment maker Adidas. It said the money that the German committee paid to FIFA in 2005 was intended to be passed on to reimburse Louis-Dreyfus.
The magazine said those aware of the alleged slush fund had included Franz Beckenbauer, head of the 2006 organising committee and former World Cup winning player and coach, and Niersbach, who was a vice president of the committee.
Beckenbauer said in a statement on Sunday: "I never gave money to anyone in order to acquire votes so that Germany is awarded the 2006 World Cup. And I am certain that no other member of the bid committee did something like that." He has made no further comment since then.
ADVERTISEMENT
Article continues below this ad
FIFA said on Thursday it was investigating the accusations and would be seeking cooperation from the DFB.
FIFA is at the centre of a U.S. corruption probe in which 14 football officials and sports marketing executives were indicted in May, and Swiss authorities are investigating its president Sepp Blatter on suspicion of criminal mismanagement and misappropriation of funds.
Among other things, the U.S. and Swiss investigators are examining possible corruption in the awarding of the 2018 and 2022 World Cups to Russia and Qatar, respectively.
ADVERTISEMENT
Article continues below this ad
($1 = 0.9073 euros)
(Reporting by Karolos Grohmann; Editing by Mark Trevelyan)