Former Man United captain Vidic announces retirement
Published 01/29/2016, 1:00 PM EST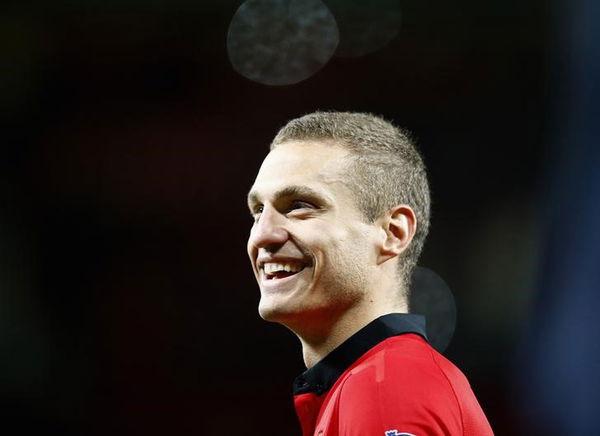 ---
---
LONDON (Reuters) – Former Manchester United captain and defensive rock Nemanja Vidic announced his retirement on Friday, saying injuries had taken their toll and it was time to call it a day.
ADVERTISEMENT
Article continues below this ad
The 34-year-old Serbian central defender moved to Inter Milan in 2014 but his contract with the Serie A club was terminated by mutual consent this month.
"The time has come for me to hang up my boots," he said in a statement on the United website (www.manutd.com). "The injuries I have had in the last few years have taken their toll.
ADVERTISEMENT
Article continues below this ad
"I would like to thank all the players I have played with, all the managers and staff I have worked with, and say a big 'thank you' to the fans for their support over the years."
With Rio Ferdinand, fan favourite Vidic was at the heart of the United defence between 2006 and 2014 and he won five English Premier League titles as well as the Champions League in 2008.
A strong, uncompromising defender who was dominant in the air, Vidic was the perfect foil for the elegant Ferdinand.
"He became a defender that was feared, he could fight with the most physical, he crunched into tackles, he attacked the ball better than anyone I've ever seen," Ferdinand said on Facebook.
"But as he will tell you with a smile, he could also play with the ball too, which made him a complete and great defender."
ADVERTISEMENT
Article continues below this ad
Ferdinand described Vidic as an aggressive player who loved attacking the first ball in or out of the penalty area.
"Our partnership brought out the best in our games and made us strive harder to be the best," the former England international added. "He was my favourite partner to play alongside."
Vidic, who played in 56 internationals, quit the Serbian national team after they failed to reach the 2012 European championship finals.
ADVERTISEMENT
Article continues below this ad
(Reporting by Alan Baldwin; editing by Ed Osmond)