Former New England Patriots Pro Bowler Pokes Fun at Bill Belichick
Published 06/23/2020, 5:02 PM EDT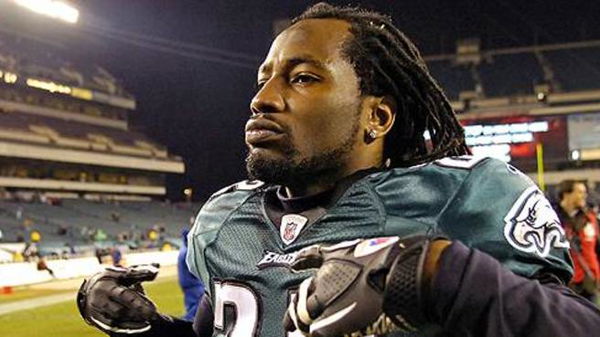 ---
---
Evidently, former NFL cornerback Asante Samuel has a bit of a grudge against Bill Belichick. Back in 2003, Belichick roped him as a fourth round pick and he spent five seasons with the New England Patriots.
ADVERTISEMENT
Article continues below this ad
During the 2007 season, Samuel picked off six passes in the final, including returning one for a touchdown. This was enough to earn him a berth in the First-Team All-Pro.
Unfortunately, a game against the New York Giants proved to be his undoing. At the time, the Patriots were up 14-10 with a minute and 20 left in the fourth quarter. He had a golden opportunity when Eli Manning botched a pass for David Tyree. Samuel managed to intercept the ball, but let it bounce off of his hands and out of bounds.
ADVERTISEMENT
Article continues below this ad
This failed interception was quite costly because it would have sealed another New England Patriots Super Bowl championship. Fate then dealt an even crueler blow when Manning made up for his mistake and found Tyree for an epic helmet catch.
In the end, the Giants stormed ahead to win the game, and Samuel was carted off to the Philadelphia Eagles for $56 million. In spite of this, he believes that he had a lasting impact on Belichick and 'taught' him how to coach defensive backs.
Fun Fact: I made Belichick understand the cornerback position better and how to make plays in any coverage. He never agreed with the way I played but now he teaches it. #pick6 #hof

— Asante Samuel (@pick_six22) June 23, 2020
Samuel and the New England Patriots coach didn't get along too well
ADVERTISEMENT
Article continues below this ad
Admittedly, Asante Samuel has some very impressive statistics during his Patriots stint. Two Super Bowls, a First-Team All-Pro and 2007 Pro Bowler, can attest to that.
As per Samuel's account, he and Bill Belichick didn't share the best player-coach relationship. He openly confessed that he did not enjoy playing for him, but he believes that he influenced the legendary coach.
A notable example is Stephon Gilmore, how boasted of one of the most stellar seasons for a cornerback. Gilmore landed in the First-Team All-Pro for the second straight season.
ADVERTISEMENT
Article continues below this ad
In addition to that, he won the NFL's Defensive Player of the Year award for with a dominant New England defense. So, Asante believes that he is owed some credit for changing Belichick's approach to the position.