Former NFL Player Pat McAfee Comments On Whether Adrian Peterson Can Replace Leonard Fournette for the Tampa Bay Buccaneers
Published 02/11/2021, 11:41 AM EST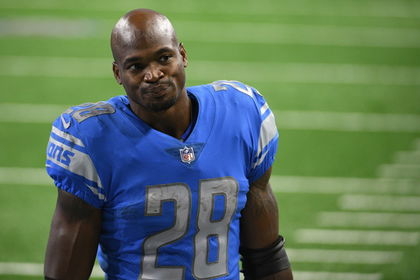 ---
---
Adrian Peterson is one of the most historic players in the NBA. In 2012, Peterson won the NFL MVP trophy while playing for the Minnesota Vikings. However, his career has started to wind down as he has aged. Since leaving the Minnesota Vikings, he has bounced around to different teams. And now, he could be on the move again, but in the hunt for the ultimate prize – a Super Bowl.
ADVERTISEMENT
Article continues below this ad
Former NFL player Pat McAfee spoke about a potential Adrian Peterson move to the Tampa Bay Buccaneers. He believes that he has seen what Tom Brady has done with the Buccaneers, and could be tempted with the idea of winning a Super Bowl ring before ending his career. And despite his age, he has still maintained his body to a high-level.
ADVERTISEMENT
Article continues below this ad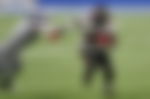 "Adrian Peterson allegedly wants to go down and play for the Tampa Bay Buccaneers, celebrating with his Tom Brady Jersey saying 'Hey, I still got it…I had a lot of yards and made a lot of plays alongside Matthew Stafford. I still got it, don't you worry about it. Just like everybody else down there, I've taken care of my body, I'm ready to get a ring. Go on and bring me in there'."
Adrian Peterson – on his way to Tampa Bay?
McAfee added that Peterson could be brought in to replace current Buccaneers player Leonard Fournette. Fournette was excellent during the playoffs for the Buccaneers. But that means that his value will be quite high, and the Buccs may choose not to re-sign him, replacing him with Peterson who could be a cheaper option.
"Which is interesting because Leonard Fournette is a free agent. Will he go get paid somewhere else or will he negotiate a deal to come back to the Buccaneers after what he did in the playoffs…might warrant a massive contract from somebody. Will the Tampa Bay Buccaneers do that knowing that a lot of people want to get to town like Adrian Peterson for instance?"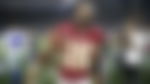 ADVERTISEMENT
Article continues below this ad
McAfee noted that while Peterson is not playing at the same level as his MVP days, he can still be a key contributor and a valuable option for the Buccaneers' offense. And the move makes sense for both parties. However, he still isn't sure if the move will come to fruition.
He said, "Is Adrian Peterson the same guy that was at the Minnesota Vikings MVP rushing for 2000 yards? I don't think he is the exact same guy. But is he still a very good running back in the NFL? I think so and if he knows that he's potentially running for a running, look out for AP AD all day. Will that happen? Who knows."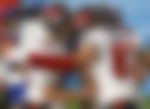 ADVERTISEMENT
Article continues below this ad
Is Adrian Peterson a good choice for the Buccaneers? He could provide a further veteran presence for the team, as they look to defend their Super Bowl throne next season. But it all depends on whether Leonard Fournette returns next year.