Former Player Kaylyn Kyle Comes Under Fire for Criticism of US Women's Football Team
Published 06/15/2019, 3:48 AM EDT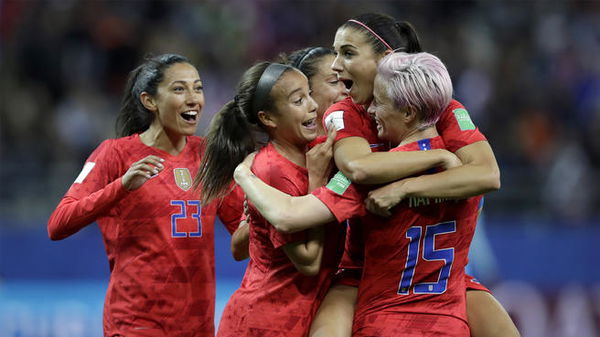 In football, there is a thrashing and there is the absolute destruction that was the 13-0 goal fest between USA and Thailand. Since then, the team have come under a lot of criticism regarding their 'over-the-top' celebrations. One of those critics was, former Canadian soccer player Kaylyn Kyle, who now works as a World Cup analyst for TSN.
ADVERTISEMENT
Article continues below this ad
However, Kyle later revealed that she received death threats for her criticism of the U.S. women's national team. Kaylyn Kyle had an issue with the Americans celebrating every goal in the 13-0 drubbing of Thailand. In all honesty, after 8-0 it was like beating a dead horse.
Speaking in a TSN broadcast Kaylyn Kyle said, "As a Canadian, we would just never ever think of doing something like that. For me, it's disrespectful, it's disgraceful. Hats off to Thailand for holding their head high."
ADVERTISEMENT
Article continues below this ad
 After Tuesday's game, she tweeted to clarify and address the backlash:
ADVERTISEMENT
Article continues below this ad
Kaylyn Kyle is a former midfielder for the Canadian National football team. Among her accolades is a bronze medal with Canada during the 2012 Olympics. She retired in 2017 a the age of 29 and played for several years in the National Women's Soccer League with her American counterparts.
The controversy began when Megan Rapinoe scored in the 79th minute of the hopelessly one-sided game. Rapinoe ran around the pitch with outstretched arms, spun around a few times, then slid to the ground and kicked her right heel high in the air several times. Some saw the scene as a little over the top, and a manner of further denting Thailand's confidence.
Many were angry at Rapinoe, whose 79th minute goal made it 9–0 over Thailand. The Americans eventually won 13–0 and the Thailand team were in utter disarray. Throughout the 90 minutes and 13 goals, it almost seemed as if the Thai goalkeeper was rooted to her spot.
ADVERTISEMENT
Article continues below this ad
However, rather than being praised for setting a World Cup record for scoring the most goals in the tournament's history and securing the largest margin of victory ever, the win turned into a debate about sportsmanship.