Formula E Team Tags Norris in Place of One of its Drivers on Twitter, McLaren F1 Driver Pokes Fun
Published 10/16/2019, 9:37 AM EDT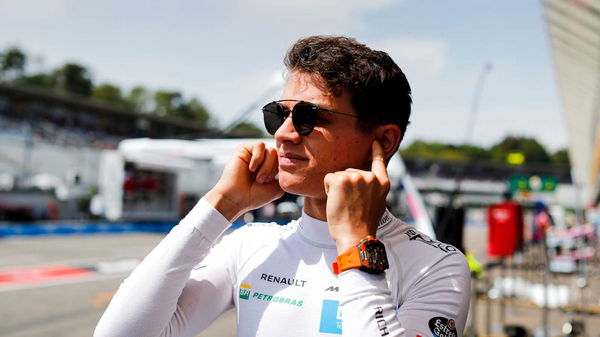 The 2019-20 Formula E season is set to commence on the 22nd of November in Ad Diriyah. However, prior to that, all teams are currently undergoing pre-season testing in Valencia. During the third session, one of the team's, GEOX Dragon, made an embarrassing gaffe on Twitter. They accidentally tagged Lando Norris as one of their drivers, instead of their regular driver, Nico Mueller.
ADVERTISEMENT
Article continues below this ad
ADVERTISEMENT
Article continues below this ad
The best part was, Lando Norris didn't even bat an eyelid and promptly tweeted about it. He played along splendidly and seemed to give a lacklustre responses to finishing 5th. Meanwhile, Robin Frijns topped the session, ahead of Maximilian Guenther and Alexander Sims. GEOX Dragon later deleted the tweet, having realised their epic goof up.
Even the FIA Formula E Twitter account jumped in to try and troll Lando Norris. Back to the action on track, Mercedes' Formula E debut got off to a bad start after Nyck de Vries hit the wall.
ADVERTISEMENT
Article continues below this ad
On Day 1, Envision Virgin Racing driver Sam Bird topped the first day of pre-season testing. It was a sure sign that the old guard will be ready to challenge for the title this year. It was also worth noting that most of the field was covered by half a second in the opening test.
In other words, fans will be rubbing their hands with glee, in anticipation of another competitive season. Maximilian Guenther topped the first session, followed by Bird to end the day.
Bird's teammate Frijns took over the top spot in the morning session of the second day. Meanwhile, Mercedes have a tough task ahead of them, to fix de Vries' car before the final session of the day.
ADVERTISEMENT
Article continues below this ad
Envision Virgin are certainly looking like the team to beat, with BMW i Andretti close behind. Defending champions Techeetah, as well as Audi Abt Schaeffler, and Nissan eDAMS, struggled in testing. However, they will be aiming to iron out all their issues befor Ad Diriyah.