Formula One's new tyre rules puzzle even drivers
Published 12/04/2015, 4:00 AM EST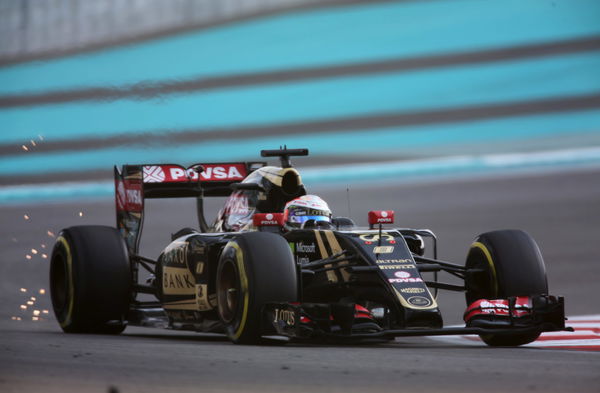 By Alan Baldwin
ADVERTISEMENT
Article continues below this ad
LONDON (Reuters) – Formula One's 2016 tyre rules, giving more choice on the selection of compounds and strategy, have left even some drivers confused.
"So far the new tyre regulation isn't clear to me. I'm glad I have an engineer to help," commented French driver Romain Grosjean, who raced for Lotus this year and is switching to Haas, on Twitter.
ADVERTISEMENT
Article continues below this ad
"I've got a headache after reading this," added India's former F1 racer Karun Chandhok, referring to Pirelli's explanation.
Formula One's governing body said after a meeting of its World Motor Sport Council on Wednesday that changes had been approved in order to encourage differing race strategies.
It explained that Pirelli would now provide three dry-weather compounds instead of two.
"Of the 13 sets of dry tyres available to each driver, the tyre supplier will choose two for the race (only one of which must be used in the race), and one set (the softest available) that may only be used in Q3 (the final phase of qualifying.
"Each driver may then choose their remaining 10 sets from the three available compounds," added the International Automobile Federation.
"Unless intermediate or wet-weather tyres have been used, a driver must use at least two different specifications of dry-weather tyres — at least one of these must be the one chosen by the tyre supplier."
ADVERTISEMENT
Article continues below this ad
Pirelli issued further information on Thursday, which may have added to the headaches.
"The teams will make their choices within a deadline set by Pirelli. They will communicate their choices to the FIA, which will in turn tell Pirelli how many tyres to produce," it said.
"The choices for each car will remain secret until two weeks before the race. If a team does not meet the deadline, the choice will be made by the FIA.
ADVERTISEMENT
Article continues below this ad
"The choices made by each team can vary for each of its cars: so each driver within a team can have a different allocation."
(Reporting by Alan Baldwin, editing by Toby Davis)