Fortnite: A Mysterious Message Seems to Be Interrupting Radio Stations
Published 04/13/2021, 2:00 PM EDT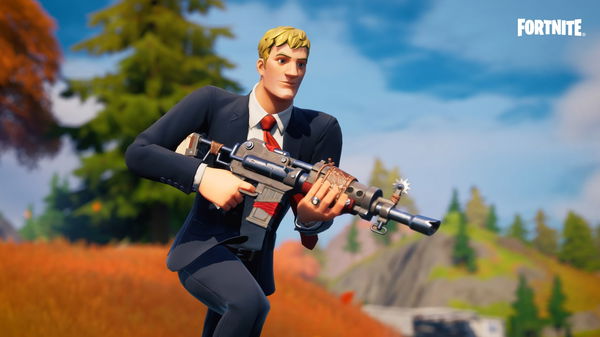 ---
---
Fortnite has been foremost when it comes to engaging and intriguing content for the players. Epic Games always manages to build up the hype for its upcoming content, and the company just knows what the community wants from Fortnite. Through various collaborations, Epic has succeeded in bringing fans from various pop-culture fandoms under the umbrella of this Battle Royale title. Maintaining its relevance is something that has helped Fortnite retain its popularity, although it is one of the oldest titles of its kind.
ADVERTISEMENT
Article continues below this ad
Speaking of intriguing content, players in the game seem to be hearing a mysterious message on the in-game radio stations lately. Fortnite added in-game radio stations when it introduced cars into the game last year. It works much in the same way as that of the Grand Theft Auto games.
According to players, what they keep hearing on the in-game radio stations appears to be the voice of none other than Agent Jonesy. The voice has a lot of distortion and interference, along with a lot of background noise.
ADVERTISEMENT
Article continues below this ad
The popular Fortnite personality ShadowOpsFN first posted this on his Twitter handle. It showed the player driving around in a truck in the game with the radio on. At one point he hears what appears to be Agent Jonesy's voice saying, "I'm still out here."
Further reading: Disguised Toast Throws Shade at Jimmy Fallon for Not Considering Him as the Among Us Guy
ADVERTISEMENT
Article continues below this ad
Fortnite players encounter mysterious message on the radio, presumably from Agent Jonesy
Many other players have experienced this as well. According to them, this message can be heard on all the in-game radio channels in Fortnite. Naturally, this has given rise to a lot of speculations among the community.
Many players believe that this is indeed Agent Jonesy, who is trying to send a message to us from somewhere. There are others who believe this to be 'The Visitor', a member of 'The Seven'. If the fans remember, The Visitor created the current Fortnite island at the beginning of Chapter 2 by creating a Zero Point and teleporting the frozen meteor from The End event there.
ADVERTISEMENT
Article continues below this ad
Whatever it may be, we will have to wait before Epic reveals further information regarding this in the game. Looks like there is a lot to look forward to in the game this season. How do you think this will merge with the in-game storyline? Let us know in the comments below.