Fortnite: Celebrate the Game's Third Birthday With Exclusive Free Rewards!
Published 09/27/2020, 7:10 AM EDT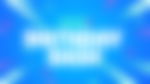 ---
---
Fortnite just turned three and fans can't believe that it's been so long since they started playing their favorite game. Birthdays in Fortnite are always special as the game gives out free rewards if the players complete the 'Birthday' challenges. Unsurprisingly, the game's third birthday is equally special and the rewards start dropping as soon as players log into the game.
ADVERTISEMENT
Article continues below this ad
The battle bus will get its annual birthday renovation and the map will be spammed with a lot of cakes and presents for the players. Popular Fortnite Youtuber Ali-A talked about the birthday events and rewards in his video.


ADVERTISEMENT
Article continues below this ad
Complete these Fortnite challenges to receive Wrap, Spray, and much more!
The first birthday reward is free for everyone who logs in during the event, i.e. from September 26 to October 1. This is the "Take the Cake" emote, where a cake candle blows up and covers the characters in the cake.
To get more rewards exclusive to the time period, players need to complete the following challenges:
Play 10 matches to get 1 The Big Three
Dance in front of 10 different Birthday cakes to get 1 Cakey
Outlast 500 opponents to take 1 Cupcake
Gain 50 health or shield from birthday cakes to receive 80,000 season XP
Finding cakes is pretty easy as every location with a name on the map seems to have these cakes. They are obviously very delicious and consuming them gives small amounts of health and shields.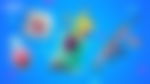 Ten map locations to look out for the cake
It is always convenient to know the locations of the cakes beforehand so players don't go wandering endlessly to find them.
Retail row
Lazy lake
Salty Springs
Sweaty Sands
Holly Hedges
Weeping Woods
Dirty Docks
Misty Meadows
Slurpy Swamp
Doom's Domain
ADVERTISEMENT
Article continues below this ad
Players need to dance in front of these cakes to complete one of their challenges, following which they will receive exclusive rewards. Additionally, there is a bonus reward for completing all the 4 challenges, i.e. Cake! Back Bling.
Fortnite is not at its best right now with its competitive scene reeling a little and Epic Games' dispute with corporations like Apple and Google. There has been a steady decline in the user-base, but one thing that remains consistent is the devs' efforts to keep the game entertaining.
Wishing Fortnite a happy third birthday!
ADVERTISEMENT
Article continues below this ad