Fortnite Chapter 2 Season 6 is About to Get a Batman Makeover and More
Published 03/31/2021, 4:38 PM EDT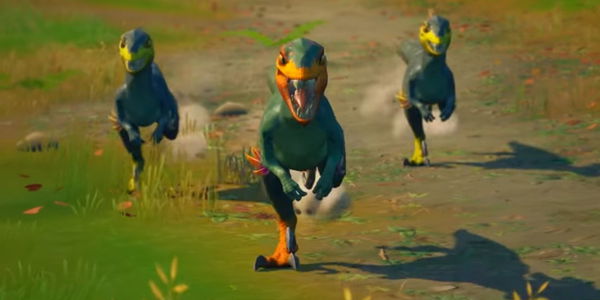 ---
---
This current season in Fortnite was off to a rocky start. Chapter 2 Season 6 had the entire community talking about how this might just be the worst season in the game yet. There have been a ton of concerns regarding the competitive standing of the game this season, along with a lot of complaints regarding the gameplay in general. Of course, there are prominent members of the community who are absolutely loving Season Six, but the majority have been quite disappointed.
ADVERTISEMENT
Article continues below this ad
However, the recent 16.10 update patch, which happens to be the first one of this season, has sparked a ray of hope for the fans. This update has brought about a roster of new changes as well as a lot of new additions to the game, and the community is loving them, as of now. Perhaps the most notable of them is the arrival of raptors in the game.
The current update has made a lot of changes to the map as well, and as many of you might have noticed, a lot of it has to do with the theme of the Spring season.
ADVERTISEMENT
Article continues below this ad
Further reading: Violence. Speed. Momentum.: Take a Peek Inside The World of Dr Disrespect
Fortnite 16.10 update has made some really interesting changes to the map
ADVERTISEMENT
Article continues below this ad
The first most notable change can be seen at Pleasant Park. This location now has some sort of a barricade around it. The first obvious thought would be that it is there to provide protection against the raptors. The barricade consists of barrels, old furniture, car tires, and other things, possibly as a desperate attempt to fend off these ancient predators. Furthermore, the houses have had their windows paneled shut as well.
In addition to this, the community has been speculating about the Grotto possibly getting a Batcave makeover. It is no news that Batman is about to come to Fortnite this season. This raises the question, but where is the Batcave? The majority of the community is pointing at this POI right here as an answer to that question. You have no idea how excited we are about this possibility.
Moreover, Jonesy's current skin features the version of Batman's utility belt from the Batman/Fortnite Zero Point comic books, drawn by none other than the legendary artist Jim Lee.
ADVERTISEMENT
Article continues below this ad
Looks like there is a lot to look forward to this season. Once again, Epic Games has managed to build a huge hype by bringing together multiple pop-culture fandoms.
Trending Stories