Fortnite Chapter 2 Season 6: Let Us Talk about the Recycler for a Moment
Published 04/07/2021, 4:45 PM EDT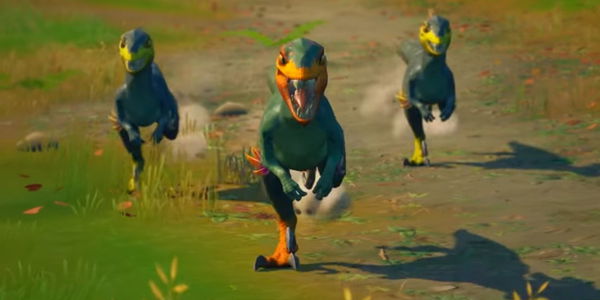 ---
---
Fortnite has always been foremost when it comes to adding new and engaging content for players. The current season in Fortnite was off to a rocky start and earned a lot of complaints from the community. Fortnite Chapter 2 Season 6 had little to offer in terms of gameplay, and the competitive aspect of the game this season was of real concern. However, with the latest update, devs at Epic Games managed to resurrect the game by adding a lot of new gameplay elements and bringing about a lot of major bug fixes.
ADVERTISEMENT
Article continues below this ad
In addition to the 16.10 update, which brought the game back up to speed, the most recent update of Fortnite added a new gameplay element as well. The update that went live in the game on April 6 added a new weapon into the game. Now, this might be one of the most broken guns that we have ever seen in Fortnite. The Recycler gun has only been in the game for a couple of days now and has already been turning heads in the community.
Recently, the iconic Fortnite pro and streamer, SypherPK, checked this weapon in one of his streams.
ADVERTISEMENT
Article continues below this ad
Further reading: 'Of Course You're Going to Look Good'- Dr Disrespect Mocks Twitch Streamers Nickmercs and TimTheTatman's Call of Duty Warzone Gameplay
ADVERTISEMENT
Article continues below this ad
The all-new Recycler gun in Fortnite proudly lives up to its name!
Let us tell you how the Recycler works exactly, in case you did not know. Now, the name Recycler is pretty self-explanatory of its function. This weapon can pull ingredients from its surroundings in order to replenish its ammo. In other words, it recycles the raw materials available in your surroundings and builds ammunition from them. So, in a way, you can almost never run out of ammo if you are wielding this gun.
However, this weapon has a trade-off. It comes with a clip capacity of three bullets only. This means that although you can always replenish your ammo anywhere, you have to be judicious about its use. This is because you obviously will not be able to replenish your ammo in the middle of a gunfight. The only other upside to the weapon is that it can deal considerable damage.
ADVERTISEMENT
Article continues below this ad
What do you think of the all-new Recycler?