Fortnite Chapter 2 Season 6: Locations of all the Iconic Soccer Characters
Published 04/27/2021, 3:54 PM EDT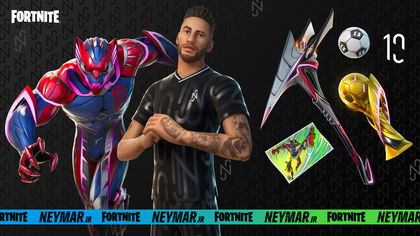 ---
---
The current Season in Fortnite was off to a rocky start. Chapter 2 Season 6 faced harsh criticism from the community due to the state of its competitive gameplay and overall mediocrity. However, things have started picking up, with Epic Games adding more and more engaging content for the players. Especially with the 16.10 update, this Season ended up being one of the best ones so far. Epic Games has even fixed some of the persistent issues players had been facing in the game.
ADVERTISEMENT
Article continues below this ad
As we all know, Fortnite is foremost when it comes to collaborations and crossovers with other fandoms. It is actually one of the main reasons why it has managed to still maintain its fan community, although it is one of the earliest titles of its kind. Recently, Epic added a new class of NPCs in the game, the Soccer Characters.
Finding these NPCs is central to the quest that leads to the iconic Neymar Jr. skin. Not only must you find these characters, you must also talk to them and complete some of the additional quests as well, if you are eyeing the Neymar skin. Once you have unlocked this skin, you can use it to complete some of the quests involving the Soccer Ball Toy as well.
ADVERTISEMENT
Article continues below this ad
Further reading: "I Am Falling Asleep Playing This Game" – Dr Disrespect Hates the Slow Paced Warzone Solo Experience
But where to look for the Fortnite Soccer Characters?
Not to worry, we have got you covered. Now, there are a total of three locations on the map where you can find these characters. They should be fairly easy to spot, since players will find them accompanied by at least a penalty box and a goalpost.
ADVERTISEMENT
Article continues below this ad
The first location is Pleasant Park. If you gliding down on the location, you will be able to spot this location right away, since it is literally a soccer pitch. In case you cannot, you can find this pitch towards the south of the location. Here you will meet the first Soccer Character.
Next up, is Dirty Docks. You might need to look around for a while to spot this one. Towards the South-East of the location, you will find a small pitch with just one goalpost, and the Soccer Character 'Shot Stopper'.
For the final location, you will have to head down to Holly Hedges. Like at Dirty Docks, the soccer pitch at this location is also quite small and has a single goalpost. However, it will be easier to spot than the one at Dirty Docks. Here you can meet the Soccer Character Galactico.
ADVERTISEMENT
Article continues below this ad
Now, most of the quests require you to have a conversation with the Soccer NPCs. However, do not just give up if there are other players doing the same. Just hang back and see it through, is what we would say.