Fortnite Chapter 2 Season 6 Zero Crisis Event: SypherPK Reacts to an 'Amazing' Finale and Battle Pass
Published 03/16/2021, 4:56 AM EDT
---
---
The moment all Fortnite fans were waiting for is finally here. The Zero Crisis Event is live for all the players and everyone can experience the solo experience. Content creators have already played through the event and kicked off season 6. Let's take a look at what exactly happened during the vent from SypherPK's perspective.
ADVERTISEMENT
Article continues below this ad
The opening cinematic for the event kicked off in some style with Agent Jones taking the Rift gun to the destabilizing Zero Point. However, there was a slight hiccup as he was attacked by Terminators and Predators on his way there. SypherPK's reaction to this was like everyone else watching: ecstatic. Somehow, with the help of the hunters, Jones manages to reach the Zero Point and delays the process by throwing the rift gun in it. Unfortunately, that wasn't enough.
ADVERTISEMENT
Article continues below this ad
What followed was the arrival of 'The visitor' from Chapter 1 who helps Jones stabilize the Zero Point. While all this happened, the Zero Point bloomed into a beautiful giant flower and it was a visual treat for the fans. SypherPK's reaction said it all as he found the event 'Exciting' and 'Amazing'. At one point he also exclaimed 'This is amazing, bro'. Clearly, he was exceedingly impressed whit what went down in the event.
Towards the end, Jones and the Visitor both found themselves stuck inside the Loop created by the Zero point and will have to fight their way out of there. Fans can expect the new Season to follow the story of their escape.
Fortnite Chapter 2 Season 6 introduces a new Battle Pass and gameplay elements
ADVERTISEMENT
Article continues below this ad
Next, Sypher took the fans through the new Season 6 battle pass which includes some cool additions. From brilliant new skins and gliders to some cool emotes, this one has it all. Sypher also pointed out one glider in particular which resembles the pre-historic dinosaur skeleton which is extremely cool. He also mentioned how the new 'Sweeping' emote is going to be disrespectful after getting a team wipe. There are also new mechanics to the game and minor upgrades that will make things interesting in the new season.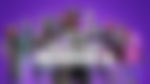 Additionally, new NPCs, POIs, and weapons have also been added to the game. For example, a new range of 'Makeshift' weapons is now available. These include a Makeshift Bow, Rifle, Pistol, and more. Furthermore, a 'Primal' range of weapons is also available in the game.
ADVERTISEMENT
Article continues below this ad
Fortnite clearly went all out with this event and it'll be interesting to see what the new season brings to the table.