Fortnite Chapter 2 Season 7: All the New Updates Fans Are Yearning to See in the Upcoming Season
Published 06/07/2021, 11:14 AM EDT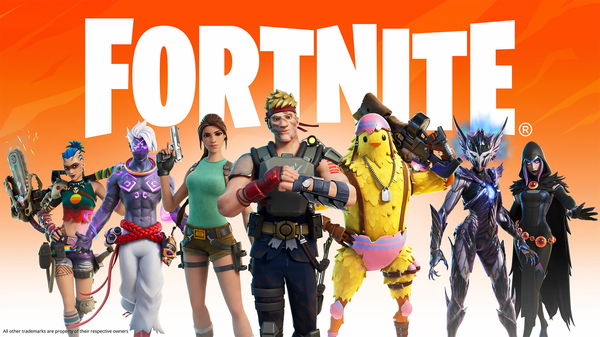 ---
---
Chapter 2 Season 6 of Fortnite has almost come to an end, making way for a new season to arrive. With every new season, Epic Games adds a plethora of new content to its Battle Royale game. However, almost every time, it likes to wait till the last minute to reveal everything it has planned for the fans. Therefore, fans took it upon themselves to decide what they expect from Season 7.
ADVERTISEMENT
Article continues below this ad
Once again, players are waiting for another live event as the season changes to get a sense of what Epic has in store for them. However, till then, they have been relying on everything Epic has released so far. Moreover, they have also been basing some predictions on promotional posters and events.
Snipers to return to Fortnite as players get to ride UFOs
ADVERTISEMENT
Article continues below this ad
One of the major disappointments that came in Season 6 was the absence of snipers from Fortnite. Players loved using the long-range weapon to take out enemies across the map. However, Epic Games vaulted all sniper rifles as soon as the current season began. Naturally, it has been a popular demand to bring the sniper rifles back.
Although Season 6 had the Primal Bow to compensate for the loss of sniper rifles, as the theme changes, the bow would no longer fit in a new theme. Therefore, players are extremely confident that sniper rifles will return to the Battle Royale game in Season 7.
Another exciting thing that players have started to note has been the UFOs across the map. Right now, they are just an abnormality to hint at the theme for the next season. However, players are assuming that they would be the rotation devices from the next season, such as the sand tunnels or the rifts seen in previous seasons.
Talking about rotations, a fresh Fortnite poster shows a hoverbike, and fans are going crazy. If the developers have designed such a thing, it means it will also be coming to the game, which means driving around the island will get more exciting in Season 7.
WATCH THIS STORY: Call of Duty Warzone vs Fortnite: Which is the Better Battle Royale
Original secret skin, vehicle, and weapon attachments, and much more
Fortnite releases a secret skin every season, and Season 6 had soccer star Neymar Jr. In fact, many previous seasons have had crossover skins as secret skins, and it is time Epic introduced an original skin. Therefore, players are hoping they get an original secret skin this time as Season 7 arrives.
ADVERTISEMENT
Article continues below this ad
One thing that players have been waiting for so long ever since it was teased is weapon modding. Attachments to improve weapons is an amazing concept in other games, and Fortnite was also going to try it. Season 7 can be the update when Epic Games finally adds weapon mods to the game.
ADVERTISEMENT
Article continues below this ad
Apart from weapons, even vehicles might get mods in the upcoming season. From roof turrets to boosters, there are a lot of attachments players can collect to improve their vehicles. These are just a few of the many things Epic Games can add to Fortnite once this season ends and attract more players to the game once again. Trending Stories