Fortnite Community Reacts To The Imminent Aim Assist Adjustments
Published 05/20/2020, 7:14 AM EDT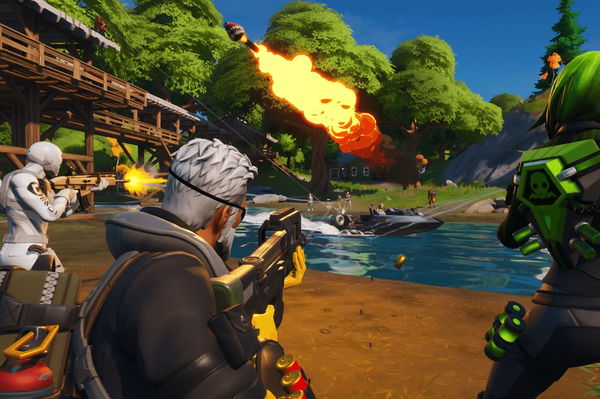 A massive surge in the number of controller players has overwhelmed Fortnite in recent times. Many PC players have given up the traditional keyboard and mouse to pick up the sticks. It paved the path for controller supremacy in the competitive game. Those who didn't make the swap have scrutinized the broken aim assist on controllers. Thus, there is now a debate in the Fortnite community.
ADVERTISEMENT
Article continues below this ad
The primary issue is that players use controllers on a PC, not Xbox or PlayStation, to reap benefits of the unbalanced aim assist in its current state. Thus, it has been a controversial point for discussion, with many players like Tfue, Aydan, and Ninja presenting their takes on the controller aim-assist situation after Week 2 of the FNCS Invitational. But now, it seems Epic Games is open to introducing new changes.
Epic Games acknowledge PC Controller adjustments in Fortnite
ADVERTISEMENT
Article continues below this ad
Currently, Fortnite's downtime for the 12.60 patch update just ended. While this patch won't steer towards balancing the overpowered aim-assist, the developers revealed information about when to expect the much-needed balancing acts.
In an early patch note preview, posted by @LootLakeBR on Twitter, The Fortnite Team discussed an array of topics, including Spy Games limited-time mode, Battle Pass decisions, Dynamic Resolution for iOS, and additions to Party Royale. However, the PC Controller Adjustments was the focal point.
"Controller tweaking, tuning, and investigation continues," the developers write. They decided against bringing in the necessary changes with the 12.60 update because of the upcoming Grand Finals of the Fortnite Champion Series. It kicks off on 23 May.
"We have some changes for the next steps, but we don't want to release right before the FNCS Invitational Finals," they added. Launching new features or changing in-game mechanics right before major tournaments is never a good idea, and Epic is accurate in this regard.
The team didn't list out an exact date for the aim-assist changes, but they mentioned "next week" as the probable time frame.
Pros react to the imminent aim-assist changes
Tfue earlier mentioned about how he can't play Fortnite anymore as he felt the aim-assist is unfair. Fans speculated whether he would quit the game. But actually, he was only taking a break after frustrating results in the FNCS Invitational. After news for the controller adjustments dropped, he had something hilarious to say.
SypherPK provided his take on the imminent changes. According to him, rewarding skills should be the primary attribute. "Hopefully, whatever changes are made reward skill instead of just brainlessly spamming," he said.
More controller adjustments coming soon. After playing on the sticks I think there is still plenty of quality of life additions that controller needs. Hopefully whatever changes are made reward skill instead of just brainlessly spamming. pic.twitter.com/VM0SYzKhoT

— SypherPK (@SypherPK) May 20, 2020
ADVERTISEMENT
Article continues below this ad
Pro player for Misfits Gaming, Clix, being an extremely skilled keyboard and mouse player, is excited about the upcoming controller nerf.
CONTROLLER IS GETTING NERFED LETS FUCKING GOOOO

— Clix (@ClixHimself) May 20, 2020
ADVERTISEMENT
Article continues below this ad
After weeks of criticism, Fortnite is en route to reshape its systems and mechanics. For now, it is not known precisely what these adjustments may look like. Or how balanced aim-assist will become after the changes take effect. But Epic has once again proved that they attend to the community's feedback.