Fortnite: Complete the Neymar Jr. Quests to Get the Hang Loose Celebration Emote
Published 04/29/2021, 3:04 PM EDT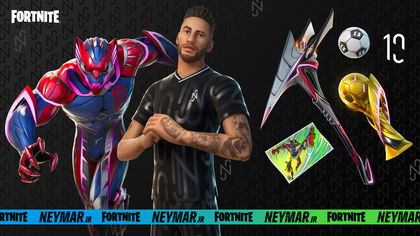 ---
---
The current season in Fortnite had initially received a lot of backlash. The community complained about the state of competitive gameplay, and the overall lack of content in Chapter 2 Season 6 disappointed the fans a great deal. However, Epic Games soon stepped in and has been trying to bring things back up to speed over the patch updates. The 16.10 update came with a wave of new content and essential fixes that redeemed the game in the eyes of the community.
ADVERTISEMENT
Article continues below this ad
Fortnite is foremost when it comes to the addition of fresh and engaging content that invites fans from various fandoms under the roof of this BR title. This is majorly how Epic has managed to maintain the relevance of this game, although it is one of the first titles of its kind. Recently, Fortnite welcomed the iconic Soccer player Neymar Jr. in the form of a skin bundle and assorted cosmetics. This has been an instant hit with the community as it has embarked on the quest to grab this bundle.
In order to grab the Neymar Jr. bundle and all of its elements, players will have to first complete the related quests. If you are still putting it off for later, here is some incentive. The official Fortnite Twitter handle just posted an announcement that says that you can grab the iconic hang Loose emote from this bundle upon completion of these quests.
ADVERTISEMENT
Article continues below this ad
Further reading: Genshin Impact Update 1.5: Best Farming Locations for Pine, Fir, Sandbearer and Other Types of Wood
Complete the Fortnite Neymar quests and own your opponents with the Hang Loose emote
ADVERTISEMENT
Article continues below this ad
Now, before you get comfortable, note that getting this emote is going to be a tedious task, and that is putting it lightly. Basically, you will need to complete a total of 52 Epic Quests in the game to grab this emote. In addition to this, you can also obtain this by completing all the Neymar Jr. Quests.
These are the Neymar Jr. Quests that currently block the path between you and the emote (dramatic, we know):
Talk to an Island Soccer Player
Complete three Quests From Island Soccer Players
Complete five Quests From Island Soccer Players
Drop Kick the Soccer Ball Toy 500 Meters as Neymar Jr.
Score a Goal with the Soccer Ball Toy as Neymar Jr.
Eliminate three Opponents as Neymar Jr.
ADVERTISEMENT
Article continues below this ad
Note that in order to complete the fourth through the sixth quests, one first needs to complete the third. This is because only after you complete five quests from Island Soccer Players can you get the iconic Neymar Jr. skin, which you need for the following quests.