Fortnite Galactus Event Live: All You Need to Know Before 'He' Arrives
Published 12/01/2020, 2:50 PM EST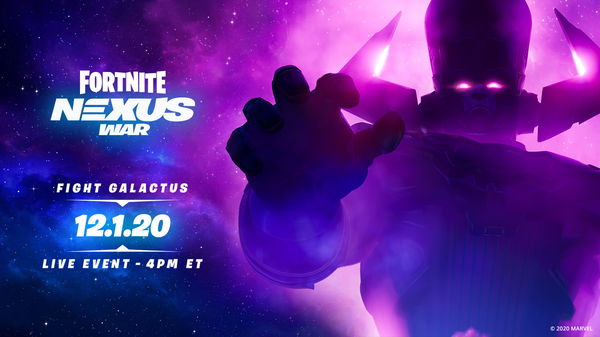 ---
---
The wait is nearly over for Fortnite fans all across the globe as Galactus is poised to finally arrive on the island. Currently, Galactus is visible quite prominently on the horizon. However, players are not losing heart as they have Earth's mightiest heroes on their side against the Devourer of Worlds.
ADVERTISEMENT
Article continues below this ad
Further reading: PlayStation Store Extends The Black Friday Deals: A Significant Move During The Current Market Situation
ADVERTISEMENT
Article continues below this ad
A lot of exciting things will be happening in today's event, and we just cannot wait! One of the major teasers that Epic dropped on Twitter is that players will be able to drive the Battle Bus in this event. Speak of something huge, huh! Although we do not know how that will work out for individual players, we are pretty excited nonetheless!
Further reading: Watch: Call of Duty Black Ops Cold War Zombies Glitch Enables Players to Check Out Alternative Ending
Every end of season event in Fortnite unlocks/releases new skins in the game. These skins are always of characters that were of prime significance in the said event. Yes, we can hear the proverbial drumroll, same as you.
Rumors suggest (and this is highly possible), that we might be getting a Galactus skin today itself. This might just be the highlight of what the event will leave behind for us.
Now that we know what is in store, let us glance at the important things once.
Things to keep in mind before the Galactus Event in Fortnite
The event is about to begin almost an hour and a half from now. We suggest you log into the game right now since Epic recommends players to download the latest update and join the game an hour before the event.
"We've taken measures to ensure more people can attend the event, but we still recommend everyone log into Fortnite at least 60 minutes prior to the event start. The event playlist is expected to go live 30 minutes prior to the start time."
ADVERTISEMENT
Article continues below this ad
As for content creators, Epic has made an important announcement:
"Partnering with Lickd, Content Creators in the Support-A-Creator (SAC) program will be able to host VOD content from the Galactus event on YouTube and be able to monetize on those videos. Monetization on the videos will be active for 90 days. Following the 90 days, Creators should not receive takedown notifications, but their videos will be demonetized."
So, are you ready to witness the biggest fight in Fortnite history? Watch the livestream below:
ADVERTISEMENT
Article continues below this ad