Fortnite: Party Royale to Feature Diplo and Other Artists
Published 06/23/2020, 2:47 PM EDT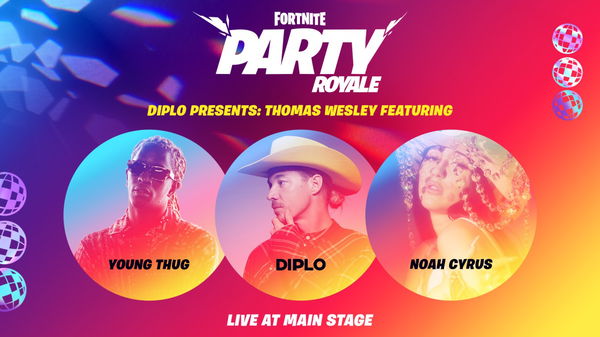 ---
---
The reason why Fortnite battle royale is different from all other games out there is because of Epic knows what attracts people. They know how to make the game a fun place – and they do this not just with in-game content. The coalescence of popular culture with gaming is something they are pretty good at. Whether it is Star Wars or Aquaman or even a Christopher Nolan movie.
ADVERTISEMENT
Article continues below this ad
The concept of having a live concert in a game is revolutionary. Epic has used this concept and turned it into something of a habit. We had seen this before with the concerts which featured Marshmello, and then Travis Scott. The introduction of the Party Royale turned this concept into reality.
When it first took place, we did not expect the hype. However, the Travis Scott event blew us away. From the visuals to the music. On top of that, it was during the COVID-19 lockdown period, which made the community realize that Epic goes to great lengths to entertain us. 
ADVERTISEMENT
Article continues below this ad
Fortnite to feature new artists in Party Royale
We recently learned that Fortnite would feature Thomas Wesley with special guests @noahcyrus and @youngthug LIVE at the Main Stage. Keeping aside the competitive aspect of the game, concerts are something everyone looks forward to. The entire community turns up when one of these things take place. 
Let's not forget, the Astronomical concert amassed over 27.7 million unique in-game players who participated live 45.8 million times across the five events. That alone broke all their previous records. 
ADVERTISEMENT
Article continues below this ad
Combining music and pop culture to popularize the game 
If we see it from a marketing standpoint, Fortnite is one of the world's biggest brands. Thus, to become a part of the popular culture – they actively enmesh the game with movies and music loved by everyone. 
ADVERTISEMENT
Article continues below this ad
There is no denying the fact that their community service and interaction are perhaps better than all other games. Thus, these concerts play a huge part in appreciating the love shown by the community. 
Now we all know how popular Diplo is in the music scene. So we are hopeful that this concert might just surpass that of Travis Scott. Then again, that was more than a benchmark – it was a surreal experience. This will be the first concert in Season 3, and the line up seems pretty tight. With the likes of Young Thug and Noah Cyrus, do you think this outshines the Astronomical Event? 
Trending Stories