Fortnite Pro Clix Worried about a Possible Permanent Ban
Published 03/24/2021, 12:11 PM EDT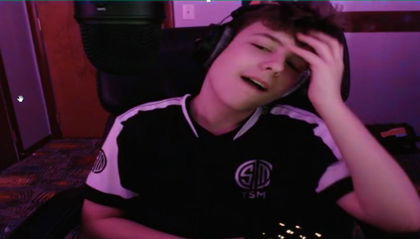 ---
---
Cody "Clix" Conrod, the Fortnite pro from the house of NRG Esports is once again at the center of Epic Games' crosshair. Almost the entire community is aware of Clix's occasional shenanigans. The pro is well-known for being toxic and has even gotten himself in trouble for saying hateful things online, both on stream and during competitive gameplay.
ADVERTISEMENT
Article continues below this ad
However, it looks like Epic Games has recently issued a warning again to the NRG pro on the grounds of toxic behavior. Currently, Clix has no other option than to go extremely low key on his streams and elsewhere. We only include the word 'elsewhere' because we all remember him getting into fights with people on Twitter. Well, looks like that is exactly what he plans to do.
On a recent stream, Clix got visibly nervous about Epic Games slapping a permanent ban on him. He speaks about being careful with everything he says, lest Epic comes after him with an overall ban from Fortnite. He says, "Oh my god, like, you don't understand this, I have to hold back bro… They're out for me."
ADVERTISEMENT
Article continues below this ad
Further reading: Zhongli, Xiao, or Hu-Tao? Who Brought In the Most Money as Genshin Impact Hits $1 Billion in Revenue?
Clix nervous after a Fortnite ban scare from Epic Games
As we said, Clix is well-known for his toxicity. He may be considered a bit too loud and passionate for his game. Although there are some who argue that Epic should turn a blind eye and treat it as harmless shenanigans, the company seems to disagree. This might be a good time to point out that the Fortnite pro has already faced three Twitch bans for his actions.
ADVERTISEMENT
Article continues below this ad
But, on the brighter side, the popular streamer seems to be making efforts to not come across as toxic anymore. Quite recently, he tweeted this.
ADVERTISEMENT
Article continues below this ad
It is good to see the pro try to reform since a permanent ban on a player as talented as him would be a shame. It's no secret that his former behavior put him at a major ban risk. This way, the pro can fulfill his aspiration of being "The next Ninja or Tfue".