Fortnite Pro's Terrified Of FaZe Sway In FNCS
Published 05/11/2020, 12:06 PM EDT


---
---
Fortnite FNCS Solo Invitationals is going quite smoothly as of yet. Recently we saw Sway from FaZe Clan top the leaderboard of North America East. What we have learned from Sway's gameplay is that he likes playing with floppers. He loves creative free buildings and early fights to gain momentum. 
ADVERTISEMENT
Article continues below this ad
Players in competitions like to keep close to their formulated strategy. Following the same loot path, taking fights at a specific space, building in a particular way. All these factors influence how successful one gets in a competition like FNCS. Sway climbed his way to the top at the end of day two with 13 eliminations. 
The FNCS Invitationals throw in a different kind of challenge for Fortnite players. Besides competitive players, even content creators invited to take part in this. While this makes the competition robust, the upper hand always remains with the competitive players. 
ADVERTISEMENT
Article continues below this ad
FaZe Sway shows durability in Fortnite FNCS.
Sway is known to be one of the most strategic players. Not only has he taken advice from the best in the game, but he also is sure of when to take a fight. Engaging in battles all the time does not prove to be good. In competitions, one has to be cold and calculating with their choices, and FaZe Sway definitely knows how to do that. 
While comparing him with other players like Clix, or Bizzle, or even Bugha, we cannot forget to mention Sway's creative abilities. He brings all of it in the game, aggressively and quite smartly. On day one, he brought in about 89 points, which gave him a great headstart.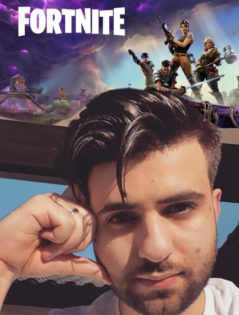 Controller players are not far behind from keyboard. 
ADVERTISEMENT
Article continues below this ad
Although the keyboard players rule the competitive scene, the controller players are giving them a run for their money. A player like Sway or Scoped are two of the finest examples. Despite having disadvantages on the controller, they know how to turn it in their favor.
Bro what is @FaZeSway on pic.twitter.com/sQ9EmbbS7j

— DestinysJesus (@DestinysJesus) May 10, 2020
ADVERTISEMENT
Article continues below this ad
Pro keyboard player are left in a state of shock and awe as Sway took the top spot on the second day. The competition is going to be more challenging than anyone expected at first. FNCS Solo Invitationals are treating us to some of the best moments, and we cannot wait to get more of it.
More from EssentiallySports on eSports